Parsons takes seventh at World Champs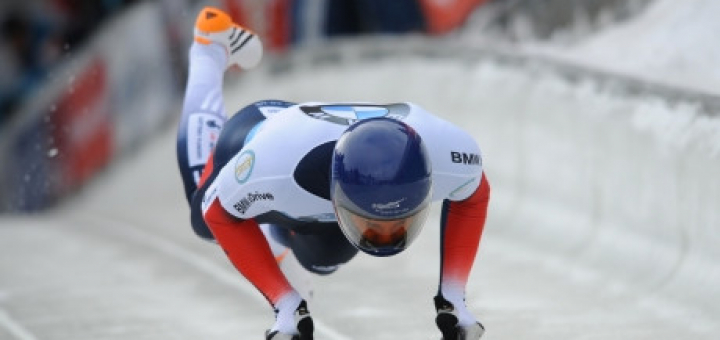 Dom Parsons produced an impressive performance on the final day of the Men's Skeleton World Championships in Winterberg, Germany, to finish in seventh place overall, following up his 10th place finish at the Winter Olympic Games in Sochi last year.
Parsons' performance followed the women's race earlier in the day when Lizzy Yarnold put herself in a strong position in the women's competition, breaking the track record on her way to leading after the first two runs with two more to come tomorrow.
Rose McGrandle and Laura Deas also performed well on Day 1 for the women, with both well-placed in the top 10.
Parsons was in fine form today as he improved on his start and run times from yesterday's racing, posting times of 56.23 & 56.25 today to steal a march on South Korea's Sungbin Yun, who finished in eighth. Parsons' first run today was the one which made all the difference, posting the fourth fastest time in the field.
The 27-year old from Dulwich in London finished in tenth place last year at his first ever Winter Olympic Games in Russia, and has had a consistent season this year, capped off brilliantly by yet another impressive performance against a high-quality field.
The overall World Championship crown was taken by Latvia's Martin Dukurs, for the third time in his career, having also won the men's World Cup competition this year. Dukurs' brother, Tomass, won his first World Championships medal, taking bronze, and Olympic Champion Alexander Tretiakov of Russia won silver.
Following the race, Parsons said: "That was not a bad way to finish the season on the new sled. There are lots of things to work on which will see my performance improve over the next few seasons.
"I wasn't sure where I'd be with a lot being changed, but I've had some competitive results and should be more consistent mixing it with the medal positions over the coming seasons. Overall, I feel I'm on target for where I need to be in the build up to 2018."
David Swift, of Newton Abbot in Devon, showed some good form today with with a start time of 4.96 and run time of 56.81 - both faster than his two runs yesterday - but was just nudged out of the top-20 sliders (22nd) and was thus unable to qualify for the fourth and final run of the event.
"The overall finish wasn't quite where I wanted it to be after some positive training runs, but the whole week has given me vital major competition experience. This year as a whole has been positive and I've learnt a lot to take forward to next season," said Swift.
Ed Smith was unfortunately ruled out of today's racing due to the leg injury which has troubled him throughout this season. The decision was made last night by British Skeleton and Smith himself, with the 29-year old from Bristol saying: "After battling with injury all season, I was hoping to come here and deliver a strong result, but it wasn't to be.
"I am still struggling with my leg and I'm so far off the pace with my push that it is impossible to compete with the calibre of competition out here. Discussions were had with our performance team last night and it was unanimously decided that I would withdraw from the race for the second day. This is not the time for heroics - this is a decision based on what is best for my physical wellbeing and recovery strategy to get me back ready to be competitive next season.
"There have been some real positives to take from this winter and I'm confident that things will be much different next year after a solid summer of training behind me. Thank you to everyone for their messages of support".
In excellent sliding conditions this week, training in the women's field had seen consistently fast times, and in her first run Yarnold smashed the previous the track record of 58.04 by over half a second as she posted a time of 57.44. Canada's Elisabeth Vathje was hot on Yarnold's heels though, as she was just 0.01 seconds behind the Kentish slider after the first run.
Yarnold, 26, was impressive again in her second run as she posted 57.62 to increase her lead over Vathje to a still slender 0.07 seconds going into runs 3 & 4 tomorrow.
Following her second run today, Yarnold said: "We're only halfway through the competition with two runs still to come tomorrow morning, and I think it's going to be even more exciting. There's only seven hundredths between the two of us [Yarnold & Vathje] so it's going to be a great race!".
Rose McGrandle produced two solid starts (5.41 & 5.43) and a smooth second run of 57.97 which elevated her to sixth place with an overall time of 1:55.97, ahead of Marina Gilardoni of Switzerland and Canada's Lanette Prediger, who are tied in seventh place overnight.
Laura Deas was the first slider down the track today and, after a controlled run of 58.16, the 25-year old from Wrexham took 0.20 seconds off her time in an excellent second run, to be well-positioned at the end of day one, lying in 10th place.
Head Coach of the World Championship squad, Eric Bernotas said: "It was a very solid day for Lizzy, Rose & Laura. Consistency within both heats has set the tone for each of them going into tomorrow".