Anderson satisfied with start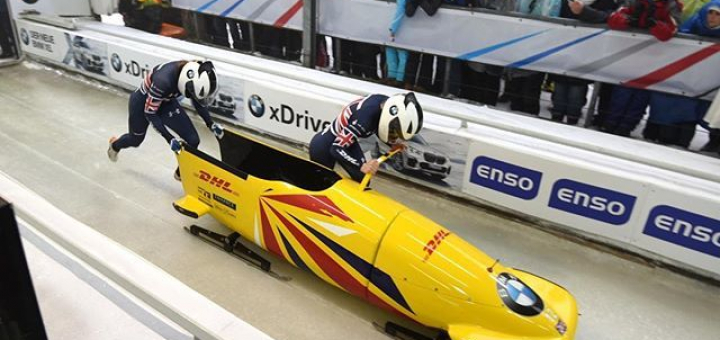 GB Bobsleigh Performance Director, Gary Anderson, was pleased with his squad's efforts as they finished the opening week of the World Cup season with a brace of top 10 finishes in Whistler.
Female duo Mica McNeill and Mica Moore secured an eighth-place finish on their World Cup debut together before Lamin Deen piloted Mark Lewis-Francis, Andy Matthews and Tremayne Gilling to ninth when the 4-man event brought the curtain down on the action in Canada.
Those results followed 18th and 19th positions for Deen and Judah Simpson and Bruce Tasker and Sam Blanchet in the 2-man competition at a track on which none of the GB team had prior World Cup experience.
"To finish World Cup Week One with two solid top 10 results is satisfying," said Anderson, whose team now head to Lake Placid in New York State for the second round of action in a fortnight's time.
This is the first visit to this track for all our pilots and the objective was to learn and gain experience on a new track. We've only been here for two weeks so the progress has been pleasing.
"There are lots of positives and Bruce and Lamin gained some valuable 2-man World Cup points, which was our key objective from that race.
"We have also given our new athletes valuable World Cup experience and that is a big plus. We're creating even more strength in depth and that is going to be so valuable as we move to the big races later in the season. This gives us confidence to now move on to Lake Placid."
World Cup (Whistler, Canada). Women's: 1 K Humphries (CAN) 1m 46.53s (53.19s & 53.34); 2 C Hengster (AUT) 1-46.77 (53.37 & 53.40); 3 J Greubel-Poser (USA) 1-46.86 (53.31 & 53.55); 8 M McNeill & M Moore (GB) 1-47.79 (54.00 & 53.79)
World Cup (Whistler, Canada). 2-man: 1 F Friedrich (GER) 1m 44.21s (51.92s & 52.29); 2 R Peter (SUI) 1-44.67 (52.21 & 52.46); 3 Y WON (KOR) 1-44.69 (51.96 & 52.73); 18 L Deen & J Simpson (GB) 1-45.89 (52.70 & 53.19); 19 B Tasker & S Blanchet (GB) 1-46.01 (52.78 & 53.23)
World Cup (Whistler, Canada). 4-man: 1 A Kasjanov (RUS) 1m 42.51s (51.17s & 51.34); 2 R Peter (SUI) 1-42.71 (51.28 & 51.43); 3 J Lochner (GER) 1-42.94 (51.36 & 51.61); 9 L Deen, M Lewis-Francis, A Matthews & T Gilling (GB) 1-43.18 (51.41 & 51.77)
For full race results, check out the IBSF website at http://www.ibsf.org/en/races-results