Milestone moment for British Bobsleigh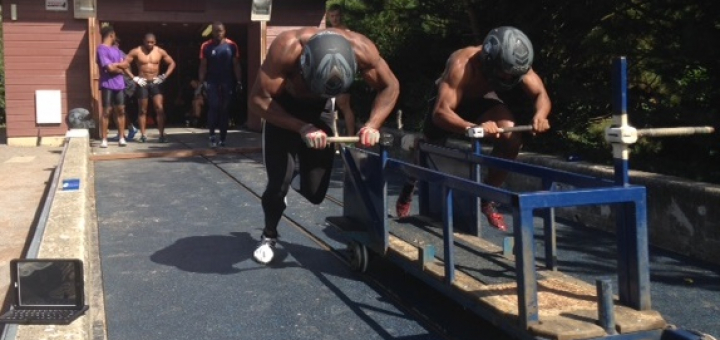 Saturday sees a landmark moment in British Bobsleigh's preparations for the new sliding year as close to 40 elite athletes descend on the University of Bath for the first push ranking session of the season.
Male, female and youth stars will all be desperate to impress in the South West when they go against the clock hoping to secure selection for this month's Push Championships in Switzerland.
A total of 25 men, eight youths and four women will be aiming to lay down a significant marker in front of Performance Director Gary Anderson and coaches Chris Woolley, Michael Khmel and Lee Johnston, with the competition amongst the men in particular looking fiercer than ever.
"Saturday is massively important for the season as a whole," said Woolley, who is convinced the strength in depth within the programme will lead to some seriously impressive times and some tough decisions for him and his fellow selectors.
"It's about us proving on the push track what we think we know about the athletes from the evaluation process. We've been training on the track since June so three months of work culminates here at the first pre-season selection point.
It's the first time we've ranked the athletes like this for a year. It's the starting point and I'm expecting to see some impressive performances and some quick times: the push training so far has been very good and there's been some real improvement from last year's data.
"There's definitely more strength in depth than we've ever had before in the men's team. If you take out the guys who have been on the brake handles and are now on the Accelerated Driver Program (Brad Hall, Ben Simons and Bruce Tasker), we've got about 15 brakemen who I wouldn't know quite where to rank them just yet. I'm hoping there are going to be some wildcards that upset the applecart."
Woolley and co plan to take six two-man crews and three four-man crews for the men's competition in Andermatt in less than three weeks' time, with the times laid down this weekend the major factor in finalising selection for Switzerland.
Speed is obviously key, but versatility will play a part, too, when the crucial calls are made shortly after the session concludes.
"Ranking is very simple: the fastest athlete is number one, the second is number two and so on, but we actually rank people differently depending on their roles," added Woolley.
"Because of a driver's unique job, they will only push off the driving handle. They are ranked from the first timing gate, at 5m, up to the 30m gate as their job in terms of the start is done at that point.
"All our brakeman have to take all three handles: back, left and right. They have to show that they are universal athletes. They get ranked on each individual handle and on a combination of all three to prove their versatility. They are timed from what happens between 15m and 65m as that is the official start distance you would see at every track in the world.
"There is also a secondary marker for athletes pushing on the side handle: if you push on the side handle you are typically a number two or three so we are interested in the times they put down to 30m as specialist number twos wouldn't normally push much further than the driver.
"The end ranking for all three handles could be quite different to the individual handle rankings and that's what demonstrates the athlete's versatility and that will show us our strength in depth for the squad."
With selection and squad places on the line on Saturday, Woolley expects the atmosphere at the track to be a little different than normal as individual aspirations push the team ethos into second place for the one and only time all season.
Tensions will run high, the clock will be constantly watched and every athlete bar none will be desperate to perform at their best under pressure.
"Everyone's out for themselves and that's the only day of the year where they are as we never push on our own other than to rank athletes.
They will still cheer each other on but it's the one day in the season where they have to say, 'This is what I've got in the bank. Take notice of it'.
"So everybody is out for themselves but they also have to appreciate that there are a lot of things that we take into consideration when we put crews together that aren't written down in numbers and figures. We take the push ranking first and the evaluation performance in support but we also look at the compatibility of athletes and the weight factor etc. What the athletes have to do is put themselves so high up in the ranking list that we can't ignore them."