Medals galore for GB Bobsleigh youth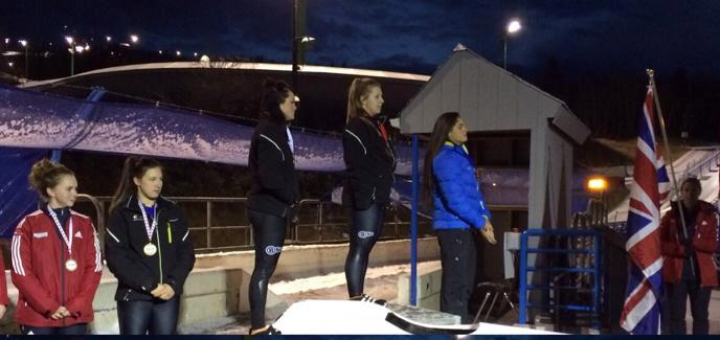 Great Britain Bobsleigh's Youth Olympic hopefuls got their season off to a stunning start as they dominated the medal table in Calgary this week.
GB won eight medals in the opening two races of a seven-race season that will determine who qualifies for the second Youth Olympics in Lillehammer in February 2016.
Kelsea Purchall and Annabel Chaffey claimed a gold medal apiece in Canada, with Purchall winning Race 1 on Wednesday night and Chaffey repeating the feat in Race 2 24 hours later.
Ed Himbury made it a hat-trick of wins in Race 2 for the men, while the same number of silvers are making their way back home to Britain courtesy of Himbury, Purchall and George Johnston.
And the array of medals for the squad sponsored by Catalyst Corporate Finance didn't end there, either, as Aimee Davey and Adam Hames bagged a bronze each to mark a near perfect start for the six-strong youth squad led by former GB Olympian Lee Johnston and Performance Manager Lauren Forrow.
"This is an absolutely fantastic start to the Youth Olympic season and one that we hope the British public will be very proud of," said GB Bobsleigh's Performance Director, Gary Anderson.
This is our best-ever medal haul at a single venue at youth or senior level and it could be the perfect building block for what we hope will be a truly memorable year for these young sliders.
"It was essential we got off to a good start as it not only gives us confidence going forward, it also gives us the the security of important qualification points in the bag for the Youth Olympics - an event at which all of these athletes are desperate to succeed for Great Britain.
"And it's not just on the ice that these young athletes - who balance competing on the world stage with schoolwork - have done their country proud: their dedication and professionalism has been widely commented on by other nations and the International Bobsleigh & Skeleton Federation and that is equally important moving forward.
"Lee Johnston has once again proved himself to be one of the best coaches of young athletes in the world. He has led our aspiring stars to Youth Olympic, World Junior Championship, Europa Cup and Americas Cup medals in recent years and he is already achieving great things with the next generation of sliders.
"Last year was a very successful one for the programme and this year looks like we could do even better."
Next up for the young Olympic hopefuls are four races in quick succession, with two in Igls, Austria, in early December and two more at the Olympic venue in Norway a week later.
The qualifying season concludes with a single race in St Moritz, Switzerland, in January, before the chosen athletes look to follow in the footsteps of Youth Olympic silver medalists Mica McNeil and Jazmin Sawyers at the showpiece event in three months' time.
An athlete's best four results from the seven races will lead to an Olympic ranking position, with each competing nation guaranteed one slot and a total of 15 athletes aged between 15 and 19 set to take to the start line in Lillehammer between February 12 and 21 next year.