McNeill & DeRatt kick off GB challenge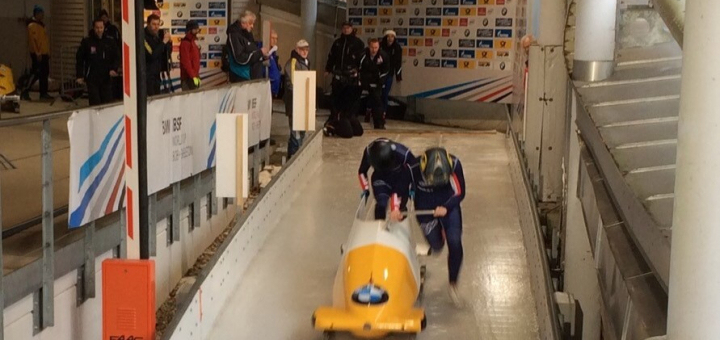 Great Britain Bobsleigh begin their World Championship challenge this afternoon as Mica McNeill and Natalie DeRatt take on the great and the good in the women's competition at 3.45pm GMT.
The GB girls will race against 17 other crews from seven other countries as they start the 10-day Championships in Igls, Austria.
McNeill and DeRatt were seventh in last week's European Championships in St Moritz, Switzerland, and are currently ranked No14 in the world, while McNeil was fourth at January's Junior World Championships alongside Aleasha Kiddle.
"All of the hard work we've done in the summer and all of the races so far this season have all been leading up to this point," said McNeill, who was a Winter Youth Olympics sliver medalist in 2012.
"I started off on the Europa Cup circuit this season, building my knowledge and continuing to learn with Dominik (Head Coach, Dominik Scherrer), and we then moved on to the World Cup to see where we were at, with the whole season built for this race.
This year has been geared towards the World Championships and I'm looking forward to getting out on the ice now.
"The partnership with Natalie might be quite new but we've had plenty of races to get to know each other as Natalie got involved at the end of the summer. I feel like we've spent enough time together to work well as a pair, and that's the same with Aleasha (World Championship reserve, Kiddle) as well - the three of us get on really well and work well together as a team."
The warm welcome from the locals at yesterday's opening ceremony in Old Town Innsbruck was an early indication of the extra excitement and anticipation that surrounds the global championships but McNeil insists she won't be doing anything different today or tomorrow.
"I see a race as a race - I don't view this any differently," added McNeill. "The only real difference is the number of spectators and the title. Yes, there's more pressure on the race, but what I do on race day shouldn't be any different to how I prepare and perform on the World Cup or Europa Cup.
"Race day is about getting a good breakfast; prepping our bodies ready to perform at our best; seeing the physio if need be; having a good lunch and then getting into our normal sliding routine before the race starts. Nerves don't normally set in until I get to the track.
"You've always got to be confident. I'm happy with how the preparation has been and I'm looking forward to going out there and doing my best. Racing is what we do the sport for - it's what we love and what we look forward to the most."
McNeill and DeRatt start 11th for Run 1 this afternoon. Run 2 follows at 5.20pm GMT, with Runs 3 and 4 taking place on Saturday from 2pm.
You can follow the action live via the official International Bobsleigh & Skeleton Federation website www.ibsf.org and we will of course keep you updated on Twitter @the_bbsa