Lewis-Francis delighted with debut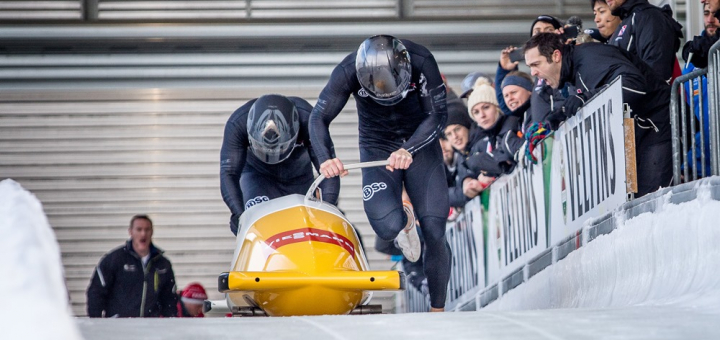 Former sprint king Mark Lewis-Francis kicked off his dream of a double Olympic gold with a fine top ten finish on his first competitive outing as a bobsledder.
The 2004 Summer Olympic gold medalist came eighth alongside 2014 Winter Olympian Bruce Tasker in the two-man bobsleigh at Friday's European Cup season opener in Winterberg, just months after switching his attentions to the winter sport.
Lewis-Francis and Tasker were among the fastest starters on last season's World Championship track and showed they could compete with a strong line up that included a number of German sleds on home territory.
"I'm delighted with that debut," said Lewis-Francis, who was part of the 4x100m relay team that triumphed in Greece 11 years ago.
"It feels pretty good to have a top 10 finish first up. I've done a lot of training on ice over the last few weeks but racing is different and it's great to have the first one under my belt.
"Finishing eighth was a really good result for us - it was my first competitive run and the first time Bruce had raced the track as a driver so we're pretty happy with how it went.
"We've spoken as a squad about how important it is to get a fast start and we were the second fastest starters overall, so that's a big plus as well. It's something to really build on.
I definitely felt a real buzz when I was standing on the start line and, to be totally honest, I loved it!
"It's obviously very different to athletics but the feeling you get in terms of representing your country and the sense of satisfaction you get from doing it well is exactly the same.
"I said when I started the sport that I wasn't just here to make up the numbers and that I knew I needed to prove myself to the rest of the squad. This is definitely a step in the right direction."
Those sentiments were echoed by GB Bobsleigh Performance Director, Gary Anderson, who knows that there are plenty of positives to take forward on the long road to the next Winter Olympics in Pyeongchang.
"We're delighted how Mark and Bruce performed. When you think that it was whole new experience for Mark and that Bruce has only had a few practice runs as a pilot on that track, it's a big result," said Anderson.
"They competed with some really good crews and have more than held their own. It's a really positive result for us to take forward into the rest of the season."