Jackson announces retirement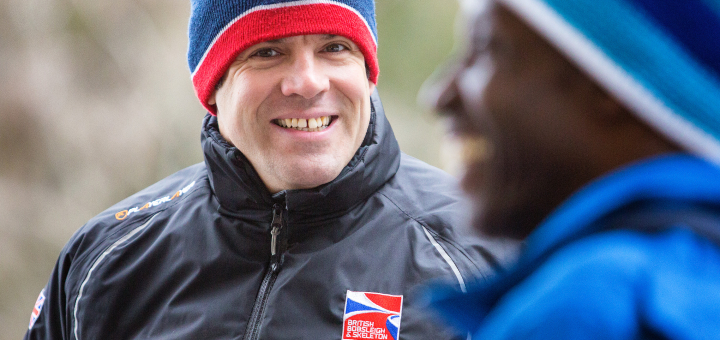 Great Britain Bobsleigh pilot John Jackson has announced his retirement after a decade-long career at the top of the sport.
The 39-year-old Royal Marine has enjoyed huge success with his country since joining the programme in 2006 but has now decided to focus on family life after the birth of twins last month.
Twice an Olympian in 2010 and 2014, Jackson guided Team GB to fifth place in the 4-man event in Sochi, finishing just 0.11 seconds off a bronze medal. Remarkably, that result in Russia came after a he recovered from a ruptured Achilles that had threatened to rule him out of the Games and ultimately led to a further season on the sidelines after Sochi.
He was a European Championship silver medalist in 2014 and competed in seven World Championships, finishing fifth in the 4-man in St Moritz in 2013 and 11th in his last outing in Igls in February, while he also won medals on both the World Cup and Europa Cup circuits en route to becoming one of the most successful British pilots in recent history.
"I knew from the start that this sport was for me. Whether I thought I'd achieve what I have achieved, that's another matter," said Jackson, who will be working closely with the British Bobsleigh & Skeleton Association in a coaching capacity in the near future.
"My proudest moment has to be representing Team GB at the Olympics but making little bits of history along the way is also very special.
"It's been an enjoyable career with the medals that we've won. Dan Money and I won the first gold medal Great Britain had ever won on the Europa Cup in 2011 and that was a sign that we were worth investing in.
"Being the first British team to podium in a World Cup race for so many years in 2013 was pretty memorable, as was winning European Championship silver in 2014.
"I have so many people I have to thank for all their support, from UK Sport and our sponsors, to all my coaches, my family and my fellow athletes, but a special mention has to go to our 4-man crew from the Sochi Olympics. It's been a privilege to work with Stu Benson, Bruce Tasker and Joel Fearon: we built a really good team with an incredible spirit, achieved some big things together and narrowly missed out on a medal in Sochi.
"I always had faith in my own ability to win medals, and we did that at European and World Cup level. Do I still think there's medals to be won? Yes, but it's that time of my life where I have to pass the mantle on to the next man."
John Jackson enjoyed a superb career driving for Great Britain
British Champion in 2008, Jackson won a hat-trick of Europa Cup medals in just five days in St Moritz in 2011, taking gold in the 2-man event and brace of bronze medals in the 4-man in a record-breaking week.
He won European Championship silver in Köenigsee in 2014, a year after becoming the first British pilot to earn a top podium placing at a World Cup event when he, Fearon, Benson and Tasker placed second in Lake Placid.
Jackson bounced back from his injury problems to add Europa Cup silver and bronze to his tally in Winterberg and St Moritz respectively in his final season with the squad and GB Bobsleigh Performance Director, Gary Anderson, is full of praise for his lengthy list of achievements and his longevity.
"John has been a wonderful ambassador for Bobsleigh in Great Britain and his achievements speak for themselves," said Anderson.
"He has proven himself to be a remarkably talented and consistent pilot across 10 years of racing for his country and I am very grateful for, and proud of, his efforts during the six years that I have worked with him.
"He came so close to winning an Olympic medal in 2014 and at the previous year's World Championships in St Moritz and he has played a major role in putting British Bobsleigh back on the world map.
"His silver medal in the World Cup in Lake Placid in 2013 was a truly fantastic result against the globe's very best and winning three medals in a single week in St Moritz two years earlier was also very special.
"We are naturally disappointed that John won't be racing with us as the build up to the PyeongChang Olympics gathers pace but we fully understand his decision and are keen to keep him involved in the programme in one capacity or another."