Homework key come race day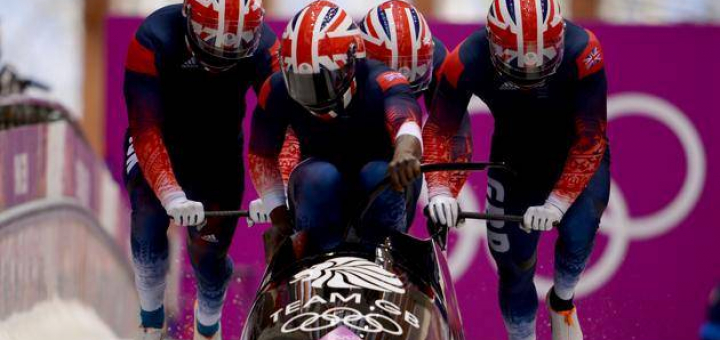 A bobsleigh run may last less than a minute but GB pilot Lamin Deen knows it takes hours and hours of preparation to ensure you get from start to finish as quickly as possible.
Deen led GB to sixth spot in Sunday's 4-man World Cup opener in Altenberg, a notoriously difficult track and one he had never raced at prior to the weekend.
And while those in the crowd see Deen in the front of the sled for approximately 56 seconds twice over on race day, learning the intricacies of the track and the seemingly endless curves and corners that go with it takes months of hard graft and home work.
"You have to lose sleep! That's the best way of putting it!" said Deen, who guided GB to fifth place at the last World Championships in Winterberg.
You have to put every last bit of energy and brain power into not only remembering the corners but also remembering what to do in those corners. And you've got to be able to remember all that while you're travelling at 80 or 90mph.
"You've also got to be able to forget the last heat or the last corner and just continue down the track: if you mess up corner four, you have to forget about it before you get to corner five. If you dwell on a mistake and the time you've lost, you'll be halfway down the track and struggling before you know it."
So just how do you learn a track? How do you make sure that you know every twist and every turn like the back of your hand come race day?
"In layman's terms, you've got to do your homework. You have to study, study, study. You're thinking about it when you're training, when you're sprinting, when you're eating your dinner and even when you're sleeping," added Deen.
"Most of my work for the Altenberg track was done towards the end of the summer in Bath, on the laptop watching the videos of previous races. There's lots of research that goes into it and you're always thinking about your steering and your position in the corners.
"If you don't know the track until the track walk, you've got problems. The track walk is just your final refresher before you go into your training heat or your race.
"On race day, the track walk is just a formality. For me personally, it's a bit of quiet time: I look at the corners and get my mind right. If I have a question I can ask the coaches, but it's far too late then to start making big changes."