Historic medal for Tasker & Olubi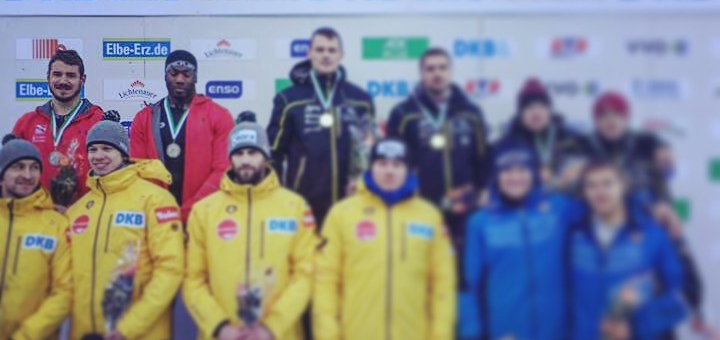 GB Bobsleigh celebrated their first Europa Cup 2-man medal for almost seven years on Saturday as Bruce Tasker and Toby Olubi secured a stunning silver in Germany.
Tasker and Olubi finished ahead of a whole host of vastly experienced teams in a 24-strong field to ensure the Union Flag was raised on a Europa Cup 2-man podium for the first time since John Jackson and Dan Money took gold in St Moritz in January 2011.
The British pair finished just 0.23 seconds behind Latvia's Oskars Kibermanis and Daumants Dreiskens in Altenberg despite the fact that Tasker is less than three years into life as a pilot having begun his bobsleigh career as a brakeman.
"It's a huge result for our 2-man programme," said GB Bobsleigh Performance Director, Gary Anderson, who switched Tasker from World Cup to Europa Cup duty a fortnight ago.
"We elected to go to Germany to give Bruce experience here. It was a strategic decision to get him out to Altenberg - a track that is going to play a huge part in our Olympic preparation - and it seems to have paid off. This will give him a fantastic lift when we come back there for the first World Cup race after Christmas.
You only have to look at the pilots that were in there to see just how good a field that was.
"You've got Olympic medalists, World Championsip medalists and World Cup medalists, and Bruce has just beaten all bar one of them."
Tasker and Olubi came within one hundredth of a second of breaking the Altenberg start record that has stood for fully 13 years when they clocked 5.13 seconds in their second run on one of the world's most difficult tracks.
The Union Flag was flying in Germany thanks to Tasker and Olubi
That gave Tasker the platform to push for a medal and Anderson was unsurprisingly delighted given the importance he has placed on ensuring Great Britain are one of the fastest starting nations at the 2018 Winter Olympics.
"The start performance was phenomenal," added Anderson.
"It's a notoriously difficult track to start on and it will make people sit up and take notice. I know people will be talking about that performance over at the World Cup in America.
"Toby did an awesome job. Pairing him up with Bruce means we've got two fantastic athletes together. 
To get within one hundredth of a second of the all-time start record is a truly amazing performance from them both. 
"We're now looking forward to seeing what they can do on the World Cup circuit after Christmas."
Europa Cup (Altenberg, Germany). 2-man Bobsleigh: 1 O Kibermanis (LAT) 1m 51.18s (55.46s & 55.72); 2 B Tasker (GB) 1-51.41 (55.45 & 55.96); 3 U Zalims (LAT) 1-51.85 (55.80 & 56.05); =14 O Biddulph (GB) 1-52.96 (56.27 & 56.69)