GB get worst of the weather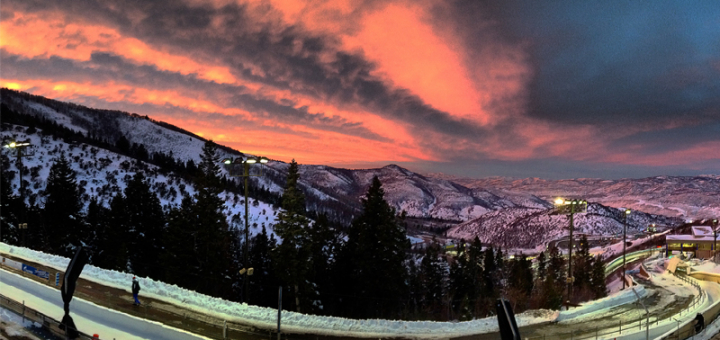 The weather played a central role as the weekend's World Cup action came to a close in Park City in the early hours of Sunday morning.
Great Britain's two 4-man bobsleigh crews were severely hampered by heavy snow and high winds on the largely uncovered track in Utah but they battled bravely to finish 14th and 20th in the second race of a rare double header.
Lamin Deen, John Baines, Joel Fearon and Andrew Matthews were down in 20th place at the end of Run 1 just a week after coming within a whisker of a medal in Lake Placid but they hit back with a fine second heat to jump up the standings.
John Jackson continued his comeback from a long-standing Achilles injury as he and Jonny Anderson, Ash Watson and Judah Simpson finished 20th after the GB and American crews got the worst of the weather in the US.
With next week's World Cup weekend in Whsitler not featuring a 4-man event, Placid hosted races five and six, with Deen claiming eighth spot first time around and Jackson finishing 15th. Deen and co were just a tenth of a second off a top five finish and half a second away from a medal on Saturday morning's race, while Jackson was just over two tenths off the top 10.
"We never like to blame the conditions for a particular result but it's fair to say that we were pretty unlucky with the weather at the weekend," said Great Britain Bobsleigh Performance Director, Gary Anderson.
Park City is a fantastic venue but it's a tricky track as it's largely open to the elements and we seemed to bear the brunt of the snow and the wind this time around.
"Sunday was particularly testing for both crews and we were pleased with how they performed, even if the results weren't what we were looking for."
Away from the World Cup circuit, there was more 4-man action in Igls, Austria as a large percentage of squad members got to grips with the World Championship track over on the European circuit.
After Bruce Tasker and Tremayne Gilling placed 11th and Ben Simons and Mark Lewis-Francis 12th in the 2-man earlier on, Olly Biddulph and Brad Hall piloted 4-man crews on both Saturday and Sunday.
Biddulph led Justin Oro-Campos, James Hedger and Tremayne Gilling to 16th and 20th spots, while Hall, Nathan Togun and Ben McCullough Young were 24th on both occasions as Lewis-Francis and Axel Brown shared the weekend's duties in Hall's crew.
"We are really starting to build towards the World Championships and getting the athletes time out on the track in Igls was invaluable," added Anderson.
"Our Accelerated Driver Programme (ADP) pilots are getting better every week and they will be in a very solid position when we head back to Austria next month.
"It was also good preparation for Olly Biddulph and Mica McNeil as they get set for this coming weekend's World Junior Championships in Winterberg."
There will be no GB involvement on the World Cup circuit this week and there are no European Cup races scheduled but the bobsleigh action continues at the World Juniors on Friday and Saturday.