GB Bobsleigh ready to kick on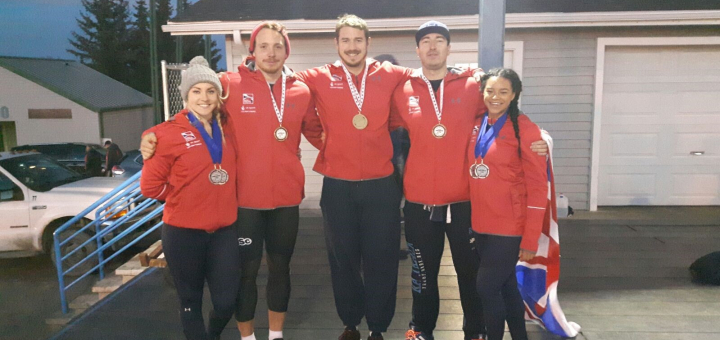 GB Bobsleigh head into this week's World Cup opener in Whistler in high spirits after a fine run of recent results in Canada.
Female pilot Mica McNeill picked up medals at four successive races on the second-tier North American Cup circuit, while male compatriots Lamin Deen, Brad Hall and Bruce Tasker were also among the podium places in the past month.
Tasker, who achieved the nation's best World Championship 2-man result for half a century in February, kicks things off alongside ex-England Rugby Sevens star Sam Blanchet at 2am GMT on Saturday morning, with Deen also piloting a 2-man sled with Judah Simpson.
McNeill teams up with Wales international sprinter and new GB Bobsleigh recruit Mica Moore for the women's race at 10pm Saturday night, before Deen and his 4-man crew bring the bobsleigh action to a close at 2am on Sunday.
Andrew Matthews and Tremayne Gilling join summer Olympic gold medalist and World Cup debutant Mark Lewis-Francis in that 4-man sled at the world's fastest track as they look to build on their sixth-place finish in the North American Cup race at the same venue a week ago.
Lewis-Francis, Gilling, Deen, Matthews and Simpson are all in action this weekend
"World Cup One is always an exciting week," said GB Bobsleigh Performance Director, Gary Anderson.
"It's where you see what everyone else in the world has done and where they sit and it's great to pitch yourself against the world's best. That's what we have to do week in, week out now.
"The message I've got from other nations is that they are looking to see what Great Britain have done and they want to pitch themselves against us. That's very positive news for me.
We're very happy with how our preparation in North America has gone. The purpose of going there early was to get time on the tracks that we don't always get access to. We did very well in terms of results and, perhaps more importantly, we picked up lots of experience.
"That was particularly important in Whistler because it hasn't been on the World Cup circuit for 4-man for the last few years and that meant that our newer pilots had never driven the track. They've done very well and we're looking forward to seeing how they go this weekend."
Anderson has been impressed with what he's seen so far from his new squad members and is pleased that competition for places seems to be on the rise yet again.
The summer recruitment programme is already paying dividends with the likes of Blanchet and Moore picking up the core skills quickly and, with Montell Douglas, Joel Fearon and Ben Simons ready to join up with the squad in January or February, things appear to be continuing to move in the right direction on the path to the next Winter Olympics in Pyeongchang.
"We have a number of new faces and competition is always increasing - and that's what we're striving for," added Anderson, who saw Hall and John Baines ruled out of action with respective arm and leg injuries in November and who is himself currently recovering from a knee replacement that means he will be watching the weekend's races from this side of the Atlantic.
"Both Mica Moore and Sam Blanchet are a product of our scouting system. We've got a very good induction process here and Dominik (Scherrer, Head Coach) has done brilliantly to make sure they are embedded into the squad quickly and are ready to race World Cups in their first year.
Mica Moore won medals in her first three bobsleigh races with Mica McNeill
"We want the right athletes in the right place at the right time. Given the size and strength of our squad, selection is very difficult. We want to give our athletes as many chances as possible to prove their worth to us so that when we come to make selection for the very biggest events, we have lots of information on them all and can make the right calls. It's down to them to show us what they can do.
"Losing Brad to injury means that we're running a crew short from what we initially intended but he's recovering well after surgery and everything points to him being back on ice and racing again in January.
"It's very frustrating sitting here with my leg up and not being out there but the crews are in great hands with Dominik and I'm getting regular updates. It should be an exciting weekend for everyone involved."
World Cup Race 1: Whistler, Canada
Bobsleigh race times (all times are GMT)
Sat 3 Dec
Men's 2-man Bobsleigh 2am
Women's Bobsleigh 10pm
Sun 4 Dec
Men's 4-man Bobsleigh 2am
The action will be live on the International Bobsleigh & Skeleton Federation website and via their You Tube channel
You can also receive regular updates via our social media channels: @the_bbsa on Twitter and BritishBobsleighandSkeleton on Facebook