Dream start for Deas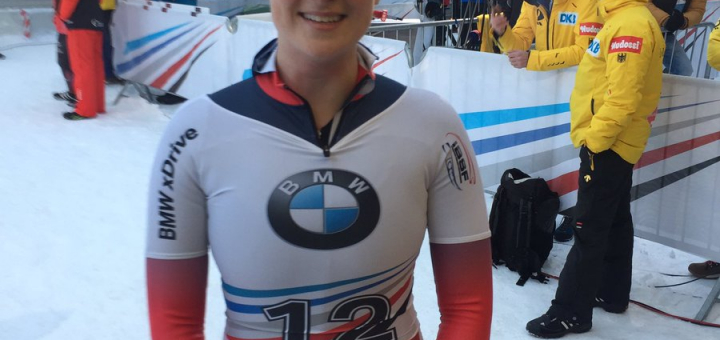 Laura Deas kicked off the skeleton season in stunning style by winning her maiden BMW IBSF World Cup race in Altenberg on Friday afternoon.
Deas, who finished seventh at last season's World Championships and fifth in the overall World Cup standings, produced a sensational performance to pip home slider Tina Hermann to gold on German soil.
The 27-year-old from Wrexham finished 0.04 seconds ahead of the field in the first of eight World Cup races, with fellow Brit Donna Creighton marking her return to the top circuit with an 11th place effort.
"It's a dream start! Last year was a breakthrough season for me and I've been saying all summer that I just want to kick on and keep improving," said Deas, who finished second in Calgary and third in St Moritz last season.
The feeling of standing on the podium twice last season was something special but to be on top of it this time takes things to another level.
"It's another step forward and it's a big confidence boost going forward for the rest of the year. I've worked so hard with the rest of the squad and the coaching staff over the summer and to see it all come together on the first race of the season is just brilliant.
"It was pretty nerve-racking waiting for the leader from the first run to finish and it was an amazing feeling when I saw the clock. Winning a race at the top level for my country is something I've dreamt about for a long time and I can't stop smiling!"
Deas' victory comes in the first race since Olympic, World and European Champion Lizzy Yarnold announced she would be taking a season-long break from competition and suggests that the success of sliding in Great Britain shows no signs of slowing down.
Elite Performance and World Cup coach Eric Bernotas insists Deas and the coaching team won't be getting carried away with the result but he admits it's a significant step forward for the former professional event rider.
"Laura's had a really solid week in training and she really brought it all together on race day," said Bernotas.
The whole team put a great effort in all week and Laura executed the race fabulously.
"The things that went a little bit off didn't shake her confidence and it was a really, really strong all-round performance from her.
"The belief is there for Laura and it's a healthy position for her and the squad as a whole to be in. It's important to stay focussed on the process and keep taking one step at a time but it's a very, very solid start."
Next up for Deas and Creighton is Race 2 in Winterberg next week, with men's trio Dom Parsons, Ed Smith and David Swift kicking off their season in Altenberg tomorrow.