Double delight for two Micas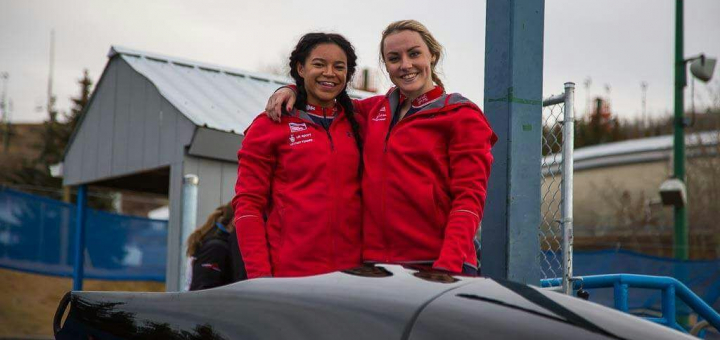 Great Britain enjoyed double delight on the opening weekend of their bobsleigh season as they won a brace of sliver medals in Canada.
A dream debut for female duo Mica McNeill and Mica Moore saw them secure North American Cup (NAC) silver on Friday night and they backed that up with a medal of the same colour 24 hours later.
Having finished second behind double Olympic and World Champion Kallie Humphries in Friday's first race of the season, McNeill and Moore went even closer to gold in Saturday's competition in Calgary.
The British pair, who had never raced together prior to their trip across the Atlantic, finished just 0.14 seconds behind home favourites Alysia Rissling and Catherine Medeiros to seal another impressive podium place in a race otherwise dominated by Canadians and Americans.
"To produce such impressive performances in successive races is extra special," said GB Bobsleigh Performance Director, Gary Anderson.
Starting the season with two silver medals on the women's circuit is a huge boost to the squad as a whole and I know Mica and Mica will be confident they can continue to improve together, especially when you consider that they had never raced together prior to the weekend.
"We take great care in getting our recruitment right and to see someone like Mica Moore do so well just a few weeks after joining the programme is obviously very pleasing."
Next stop for McNeill and Moore is the Canadian resort of Whistler for the third and fourth installment of North American Cup action.
In the men's races, Bruce Tasker was the standout British driver as he piloted Sam Blanchet and then John Baines to successive sixth spots and a place on the wider podium.
GB Bobsleigh had five athletes on the podium in Canada
With podium places awarded for spots one-six, Blanchet joined Moore in picking up a medal on his bobsleigh debut having only made the switch from rugby union this summer. The 24-year-old former Exeter Chiefs back rower and England Sevens international then partnered Brad Hall to eighth-place the following day, with Hall having finished 10th with Baines in Race 1.
Lamin Deen placed eighth and 11th with Andy Matthews and Judah Simpson respectively in the 2-man event, before he led a team of Baines, Matthews and Tremayne Gilling to sixth in the 4-man competition on Sunday.
Elsewhere, the weekend's European Cup action in Konigssee saw Olly Biddulph and Toby Olubi place 15th in the 2-man race and 23rd alongside Ashley Watson and Paul Judson in the 4-man.
There is more NAC 4-man action tonight before the circuit heads to Whistler for races from Wednesday 23rd -Saturday 26th November. The European Cup returns to Konigssee between 2nd and 4th December.
For a full list of British results from both the EC and NAC races, please click here. We'll be updating race results as they happen throughout the season so remember to check our race calendar page on a regular basis.
For the complete race results across all nations, please visit the IBSF website results page by clicking here.