British Bobsleigh thank departing Gunn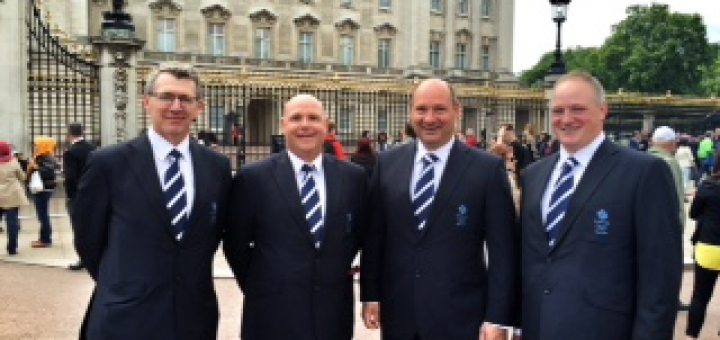 British Bobsleigh would like to publicly thank Peter Gunn for his outstanding contribution to the sport after he stepped down from his role as Ice Coach in order to spend more time with his family.
Gunn has been a central part of the success of the organisation for the past 20 years and can boast four Olympic Games and coaching a World Champion and a Junior World Champion amongst his stellar CV.
He guided Nicola Minichiello and Gillian Cooke to global glory in 2009 and Paula Walker and Rebekah Wilson to the junior title two years later and has since coached the men's four-man squad to successive fifth-place finishes at the last two World Championships and the 2014 Olympic Games in Sochi. Gunn also coached his wife, Jackie, to World Championship silver alongside Minichiello in 2005.
"Pete has been a fantastic servant to British Bobsleigh and a key part of the resurrection of the sport in this country. He is one of the most experienced coaches in the world and he'll be sorely missed," said British Bobsleigh's Performance Director, Gary Anderson.
Pete has been a stalwart of the British Olympic programme for nigh on 20 years and during that time he has coached a World Champion and a Junior World Champion. He has had a hugely positive impact throughout his time with us and I cannot thank him enough for his hard work, enthusiasm and expertise.
"When I started with British Bobsleigh, the first appointment I made was to re-engage Pete as our World Cup coach and that proved to be a very smart move. He has worked brilliantly with me in the five years since I have been in post and has been instrumental in getting our four-man crew up to where they are now.
"He is extremely popular with all the athletes and the staff and is also highly thought of on the wider circuit. He is such a popular character and will be sorely missed, not just by Great Britain but by everybody in the world of bobsleigh."
Gunn's decision to take a break from the sport comes as his wife is to return to work for a further three years, meaning he will instead fully focus his attentions on looking after their two young children.
He hasn't ruled out a return to the sport in the future, however, and is convinced Great Britain's upward curve will continue despite his departure.
"I've done 20 years with British Bobsleigh now and I still love the sport but my wife's career has been extended so I will be staying with the family," said Gunn, who identifies Walker's win at Lake Placid and his wife Jackie's successes as arguably his proudest moments in the sport.
"I've said to Gary and Dominik (Head Technical Coach, Dominik Scherrer) that anything they need me to do, I will happily still do and I would be more than happy to come back after my wife has finished her career.
"I've been to four Olympics as a coach and each one was special in its own way. Coaching my wife was also a highlight. She was the brakeman for Minichiello when they won a Silver medal in the World Championships in 2005 and that was a fantastic experience.
"For both of those achievements I was working with somebody else so probably my favourite memory was in 2011 when we won the Junior World Championships with Paula Walker when Gary Anderson first came on board.
"In the last five years, we've become a lot more professional and I see things continuing to improve. In the last couple of seasons, we have taken our best brakemen and put them in the front seat through the accelerated driver programme and they are already making great progress. We've now got some of the best brakemen in the world and putting them in the front seat can only be a good thing. In the two-man event, the newer guys should get some really, really good results in the next couple of years.
"From a personal perspective, I would like to thank coaches such as Tom De La Hunty, Malcolm Lloyd and Dominik Scherrer as I owe a lot of my knowledge to them."
As for whether British Bobsleigh bring anyone else in to take over from Gunn, Anderson says that will be a decision for Scherrer to make but that trying to find a carbon copy of a coach with such extensive qualities would be an extremely difficult task.
"To try and replace Pete will be impossible - there isn't another Pete - but we're looking at who we have in place at the moment, where the gaps may be and what we need to cover, and we'll make a decision during the summer. That will be Dominik's call," added Anderson.