Bobsleigh youngsters rule the world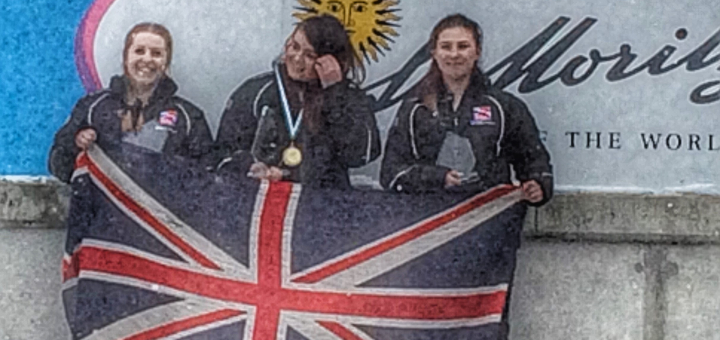 Watching a trio of Union flags raised high above a medal podium is the ultimate aim for most British national teams but for Great Britain's youth bobsleigh squad that dream became a reality this weekend.
The nation's best young female bobsledders finished the qualifying races for next month's Winter Youth Olympics as No1, 2 and 3 in the world to ensure red, white and blue dominated the skyline in St Moritz, Switzerland on Saturday.
Kelsea Purchall, Annabel Chaffey and Aimee Davey have seen off all comers throughout a series of seven races across Europe and North America and their success has been all but mirrored by the boy's team of George Johnston, Ed Himbury and Adam Hames.
Johnston matched Purchall in ending the qualifiers as the world's best, with Himbury not far behind in third and Hames fourth as GB won close to half the 42 medals on offer.
"One thing I've dreamt of my whole sporting career is to see three Union flags raised on a medal podium. And that dream has now become a reality," said Great Britain Bobsleigh Performance Director, Gary Anderson.
I'm immensely proud of the squad and to see those young people's faces as those flags went up was something very special.
"The officials from the St Moritz Bobsleigh Club came up to me and said they only had two Union Jacks but that they would find us another so we could hoist all three - that's how unique an achievement this really is.
"The amount of people that have come up to our athletes and our staff and congratulated them since is unprecedented. I'm just so proud of and pleased for these young people – they are a real credit to our country."
Purchall won gold in St Moritz to take her total across the seven qualifying races to three victories, a sliver and two bronze medals as she finished outside of the top three on just a single occasion when she was fifth in Lillehammer last time out.
Johnston grabbed two golds and two silvers; Himbury secured a gold, two silvers and a bronze; and Chaffey won one gold and two silvers, while Davey and Hames bagged a bronze apiece.
"I could never have imagined this was possible when I started the job - absolutely, no way. But seeing a Union flag raised at a medal ceremony is the norm now for these guys and girls, and that's how we want it to continue," added Anderson.
"It's not a flash in the pan. They are potential medal winners at every race and each one of the six of them can win gold. I knew that we could be up there and challenging but to win the number of medals we have is even better than we could have predicted.
We have some very, very talented young athletes here and they really are the future of the sport.
"Joel Fearon from GB1 said to them all last week, 'People will say that you are the future, but believe it: you really are'. And that's really hit home for them all.
"It's not a wild statement to say that one of those girls could qualify for the next Winter Olympics in Pyeongchang in two years' time – they are that good.
"We won't rest on our laurels, though. We have to carry this forward and everyone has to make sure they are on their A game because other nations will be desperate to beat us now - we're there to be shot down."
The second Winter Youth Olympics - for athletes aged between 15 and 18 - take place in Lillehammer, Norway between February 12 and 21st, with the monobob event scheduled for the penultimate day of the Games. Selection for the GB team will be announced in the coming weeks.