Bobsleigh bag bronze in St Moritz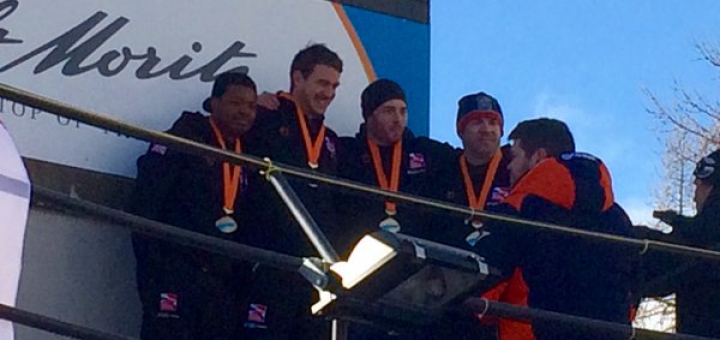 Great Britain Bobsleigh geared up for next month's World Championships by bagging a bronze medal in the final Europa Cup race of the season on Saturday.
John Jackson, Bruce Tasker, Ben Simons and Judah Simpson finished third in St Moritz on Saturday, a day after Mica McNeil and Natalie DeRatt had gone so close to achieving the same feat.
It was Simpson's first medal in British colours and a welcome return to the podium for Jackson after close to two years on the sidelines because of an Achilles injury.
"It's always god to see our guys on the podium with the Union flag flying in the background," said GB Bobsleigh Performance Director, Gary Anderson.
"This was a packed Europa Cup field, with a lot of talented and experienced crews so it's pleasing to have medalled.
"Judah enjoyed his first taste of the top three and it was good watching Jacko stand on the podium after such a long time out injured."
GB Bobsleigh will hope to medal in Moritz again this coming weekend
The last Europa Cup race was a prelude to the next instalment of World Cup action, which takes place at the same track this coming weekend.
All three GB crews - and many of their rivals - used the race to trial new equipment and techniques and Anderson admits it is hard to read too much into the overall result.
There were plenty of reasons to be cheerful, though, and Jackson and fellow drivers Lamin Deen and Brad Hall will have a learnt a great deal ahead of the penultimate World Cup event of the season.
"With the World Cup race in St Moritz so soon afterwards and the World Championships now only a couple of weeks away, this was a good chance for us to look at a number of new things on all three sleds," added Anderson.
We've taken a lot of valuable information away from that race, but we know that a lot of other nations will have done the same.
"Now we look to kick on in the World Cup as we continue the build up to the World Championships."
Deen, John Baines, Joel Fearon and Andy Matthews were 8th in Moritz and Hall, Ashley Watson, Paul Judson and Justin Oro-Campos were 19th.
The bobsleigh action starts again on Saturday when the women kick things off from 8.30am GMT, with the 2-man following on at 12pm. The 4-man race takes place on Sunday from 9.30am. Races are live via the official International Bobsleigh & Skeleton Federation website, www.ibsf.org