Deas 5th ahead of World Champs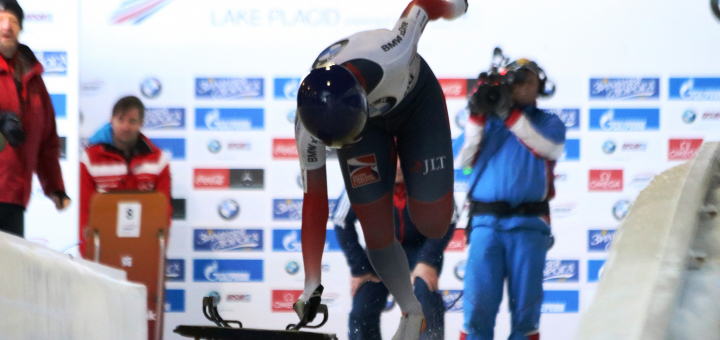 Laura Deas warmed up for the World Championships with a fifth-place finish in the latest round of Skeleton World Cup action in St Moritz on Friday afternoon.
Deas, who won the season opener in Altenberg and picked up a bronze medal in Lake Placid last month, recorded a time of 2 minutes 22.87 seconds on the world's only natural ice track to finish 0.38 seconds behind race winner Janine Flock.
The race doubled as the European Championships but Deas just missed out on a medal as German pair Tina Hermann and Jacqueline Loelling placed second and fourth respectively, with Switzerland's Marina Gilardoni sandwiched in between them after setting a track record in Run 2.
The result sees Deas stay fourth in the world rankings with just one World Cup race left to come in Koenigssee after the World Championships in Igls.
Fellow Brit Donna Creighton finished 15th but remains 12th in the overall standings after her time of 2 minutes 24.61 seconds in Switzerland.
Dom Parsons led the way for the men with an 11th-place showing that actually saw him jump up to fifth in the world standings due to the performance of his closest rival.
Kenny Howard marked his World Cup debut with a 23rd-place finish, while David Swift was a spot further back in 24th a week after winning his maiden race on the Europa Cup circuit at the very same track.
South Korea's Sungbin Yun celebrated his first World Cup win as he ended Martins Dukurs' 100 per cent start to the season at the seventh attempt.
Dukurs shared the European title with brother Tomass as they finished 0.07 seconds behind Yun having both been narrowly ahead of him after Run 1.
Attentions now turn to the most-talked about event of the season in Austria, with the IBSF World Championships taking place between February 12-21 just outside Innsbruck.
The Men's Skeleton is scheduled for 8.30am GMT on Thursday, February 18 and 2.30pm on Friday 19 and the Women's Skeleton follows at 8.45am on Friday 19 and Saturday 20.
The GB Skeleton squad for the World Championships will be announced in London this coming Monday afternoon.