British Skeleton announce World Championship squad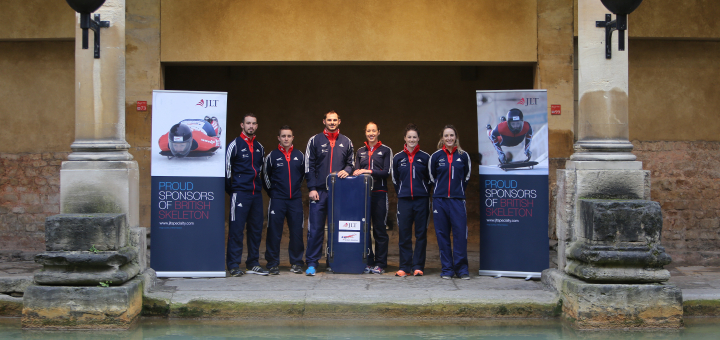 British Skeleton's Performance Adviser, Andi Schmid, and Head Coach, Eric Bernotas, have shown faith in all six British sliders who have performed at World Cup level this season by naming them in the squad for the FIBT World Championships in Winterberg, Germany.
The British Skeleton squad is led by Olympic and European Champion, Lizzy Yarnold, who secured an overall silver medal in the 2014/15 World Cup Series at the last race of the season in Sochi, having won five golds and a silver at World Cups this year.
Laura Deas and Rose McGrandle will join Yarnold in the women's World Championship squad, having both had excellent individual seasons. Deas won two World Cup medals in her debut season competing at the highest level and McGrandle won bronze at the European Championships in La Plagne. All three of GB's female sliders finished in the top-10 overall in the World Cup competition.
Schmid commented on their performances this season, saying: "This post-Olympic season has been very exciting for GB. We are absolutely the top women's nation in the world with three sliders in the top 10".
Yarnold shone again this year, following on from her Olympic gold and overall World Cup title in 2013/14. Five gold medals and a silver in seven races this season took the 26-year old from Kent to second place overall in the World Cup with 1531 points – just 20 behind Janine Flock of Austria, despite having missed one race completely in Canada before Christmas.
Yarnold also won the women's European Championships at the rescheduled race in La Plagne and will be targeting the World title in Winterberg – the only major title she is yet to win. Last time round, in St Moritz, she finished fourth.
Deas has had a fantastic debut season on the World Cup tour, which began by winning British Skeleton's selection races in November 2014 at the track that will host the World Championships in Germany. The 25-year old, who is from Wrexham in North Wales, was dubbed "one of the fastest pushers in the world" by Schmid at the start of the season and she won her maiden World Cup medal in Calgary before Christmas, taking silver, and was then on the podium again in the New Year as she won bronze in St Moritz.
In addition to her medals, three top-10 finishes at Altenberg, Igls and Sochi took Deas to fifth in the overall World Cup rankings with 1314 points, ensuring her a place in the squad for the World Championships.
Rose McGrandle completes the women's squad for Winterberg, and consistency has been key for the 28-year old this season. Having been second to Deas at the selection races, McGrandle performed well at the first three Intercontinental Cup events – recording three podium finishes – to qualify for the World Cup. She then made an instant impact in the North American races before Christmas with back-to-back sixth place finishes.
The Milton Keynes slider's form continued in the New Year, peaking in Igls where she won bronze at the European Championships. Another strong performance at the final race of the season in Sochi meant that McGrandle finished in seventh place in the overall rankings with 1256 points.
The selection of Yarnold, Deas & McGrandle is not only a tremendous achievement from these athletes but also a deserved reward for the joint efforts of British Skeleton and UK Sport, as all three athletes came through the same group in the 'Girls4Gold' talent identification programme, sponsored by Ignite.
Dom Parsons, Ed Smith and David Swift will fill the three places available to British Skeleton's male sliders for the World Championships.
Parsons had a breakthrough year in 2013/14 as he won his first World Cup medal in Calgary, before finishing in the top 10 at his first Olympic Games, in Sochi. He also finished in ninth place at the previous World Championships in St Moritz in early 2013.
Parsons' best results this season came in Konigssee and St Moritz, with back-to-back fourth place finishes in an intensely competitive men's field, which was dominated by Martins Dukurs of Latvia.
The 27-year old has been extremely consistent throughout the 2014/15 World Cup season, finishing outside the top 10 just twice in eight races. Parsons, from Dulwich, London, mirrored the achievement of Deas by finishing in fifth place in the overall rankings this season, with a tally of 1232 points.
Smith's year was somewhat hampered by a leg injury, which forced him to sit out races in La Plagne and Igls, but the 29-year old showed promising signs in his comeback at the final race in Sochi where he finished 16th with two consistent runs. This took Smith to 21st in the rankings with 462 points.
Smith, of Bristol, finished in 15th at the 2013 World Championships and will be seeking to put a tough year behind him by regaining full fitness and producing a strong performance in Winterberg.
Swift had a good season in the Intercontinental Cup and used his chance well at World Cup level when he replaced the injured Smith in Igls. Swift, from Newton Abbot, Devon, made a great entrance as he produced his highest World Cup finish in Austria, taking seventh place.
Schmid said: "In the men's field, we have seen some fantastic results from Dominic and in Igls David Swift showed that he has the potential to perform at the highest level. What's more, it now looks like, subject to FIBT ratification, we now have three men qualified for World Cup spots next year. That's a big step up but the men's group know they still have a lot of room to learn and to develop.
"With Donna Creighton and David Swift winning the Intercontinental Cup overall series and such good results on the Europa Cup from Kenny Howard, Jerry Rice, Jack Thomas and James Howard, our top athletes know that there are people constantly pushing. Not forgetting Jor'dan McIntosh coming back after an injury break next season and with our strong new group of Talent athletes, that means internal pressure within the squad can only be good for the future."
British Skeleton and British Bobsleigh have merged into the British Bobsleigh and Skeleton Association to streamline operations and support and have appointed a new CEO, Richard Parker.
The post-Sochi cycle has also seen British Skeleton make great strides  off the track as well as on it, with the Association's main sponsorship partner, JLT Specialty, extending their current deal through to the 2018 Winter Olympic Games in PyeongChang.
Parker, commented on the new deal, saying: "The partnership with JLT Specialty is a huge success story for British Skeleton. We are extremely grateful for their continued sponsorship which enables us to provide the best possible support to the athletes and contributes to our medal success".
John Lloyd, CEO of JLT Specialty added: "We are delighted to continue with our sponsorship of British Skeleton's Official World Class Squad up to PyeongChang in 2018 and we are immensely proud of their continued success and achievements.
The BBSA has also teamed up with the BBC to provide live coverage of the World Cup series. For the World Championships, the BBC will stream the women's skeleton and four-man bobsleigh events live on the Red Button and BBC sport website and these events will be made available on BBC iPlayer.