Wyatt set on small steps after success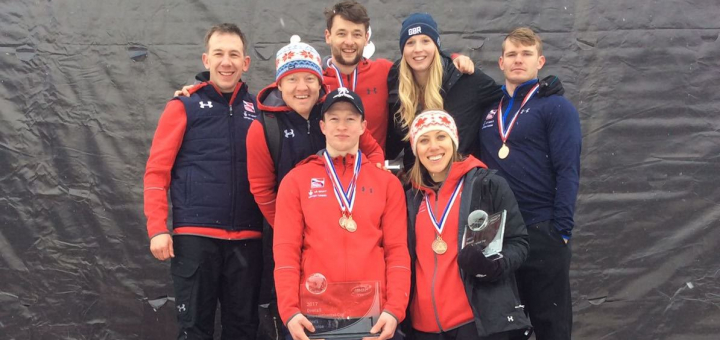 Marcus Wyatt may have described his first full season on ice as 'better than he ever expected' but there is no danger of the 25-year-old getting carried away with his progress.
Wyatt, who joined the GB Skeleton set up through the Power to Podium programme in December 2014, enjoyed a host of impressive results this term, including a brace of silver medals on the North American Cup and Intercontinental Cup circuits in the USA.
The former American Football player beat a number of far more experienced international sliders in those two races in Park City and Lake Placid in particular as he demonstrated the kind of potential that saw him fend off hundreds of other hopefuls during his initial selection for the squad.
But, while he will take plenty of confidence into the summer on the back of this season's achievements, he knows that the real key to reaching his ultimate goal of an Olympic medal in Beijing in 2022 is taking small steps and making continuous progress.
"The expectation was just to go out and put down some semi-competitive results to show that I can compete. Anything else was a bonus," said Wyatt, who only finished outside the top 12 once in his 11 races.
"That consistency definitely pleased me. That's something that, as new athletes, we aren't expected to be able to do just yet. I think the 17th in Konigssee featured two bad runs but, in every other race, I had at least one good run. In the races where I was on the podium, I managed to pull out two good runs rather than one.
Overall, I've been really happy with how the season's gone. I've done better than I ever expected I would. To come away with a couple of second places, especially the one on the ICC circuit, was fantastic.
"It's been a good foundation year and it sets me up nicely for what's ahead. It's all about small building steps now. When you start a new sport, you're always going to make your biggest gains early on when you go from being a beginner to someone who races regularly. If I can come away with similar results next year, I'll be happy. I don't expect to progress as much as I have this year in the future but if I can keep building on this it puts me on a good path."
Wyatt first raced for Great Britain in the last North American Cup race of the 2015/16 season, finishing fifth in Placid 12 months ago.
That race was a one-off, though, and the season that has just ended was his first experience of life as a full-time athlete competing for his country week in, week out over the winter.
It's an experience that he admits takes some getting used to, both from a mental and physical perspective - especially given his background in American Football - but it's one he intends to continue embracing as he looks for the minor alterations and amendments that will help him fulfil his potential.
"We'd never gone from race to race to race, week in, week out before," added Wyatt. "Learning how to manage your body was tough, and we're still learning about that. You need to be as close to 100 per cent as you can every race day and that's tough when you might be on your fifth race in three weeks.
Mental preparation is key. You have to know when to switch on and when to switch off.
"If you try and stay switched on for six weeks, you'll be out on your feet by week three, if not week two. It's about managing your body and your mind.
"To begin with, what I wanted to do before sliding was play loud, shouty music and get myself pumped up. But that's no good when you've got be relaxed on a sled. I got rid of that approach and I'm now one of the few athletes who doesn't warm up with music. Initially, I found that the adrenalin of a race day was enough to pump me up. But as race days become more and more the norm, maybe it's something I need to look into again and start playing around with.
"It'll be a summer of working out what I can tweak in lots of areas. I'll be working on the push at the push track as much as I can and there will be lots of videos and lots of chats with coaches to see where I can improve before trying to hit the ground running in the winter."
Marcus Wyatt picked up a brace of medals in his first full season of skeleton
Success last season can be in part attributed to making a flying start says Wyatt, with the Swansea University graduate hitting the ground running the very first time he returned to the ice in October.
That set the platform for four top ten finishes in a row in the European Cup in November, with that brace of slivers following suit when he switched continents after Christmas.
"I think part of my success can be put down to my first run in Lillehammer in pre-season: it was one of the best runs I'd had there and it was my first time back on a sled in six or seven months. It felt like I was already dialled in.
"The first silver medal was on the North Americas Cup and it was the first time I'd been to the track in Park City. I'd only had six training runs - because I was sharing the two races with another athlete, I'd had two less practice runs than most of the field.
Everything just kind of went right on race day. As soon as I came out of the spur, I was on that ideal line and I managed to keep that the whole way down.
"It did surprise me, to be honest. It was the best run of my life to date. Everything was there or thereabouts. I came down in first position after the first heat, beating some very good guys. In the second run, I got unlucky with the snow - they were clearing the spur every other person and the guy in second got a snow blow and a sweep and I didn't.
"The second silver was at Lake Placid and I'd had about 30 runs there because it's where we'd had our first race in our first season. But training didn't go well and I was really struggling. There are some difficult corners - corners three, four and five in particular - but I managed to pull it together on race day. I came down in third after the first run and picked up a spot in the second. I was shocked, to be honest, but I now know what I'm capable of and it's definitely made me even more determined for what lies ahead."