World Cup round up: Skeleton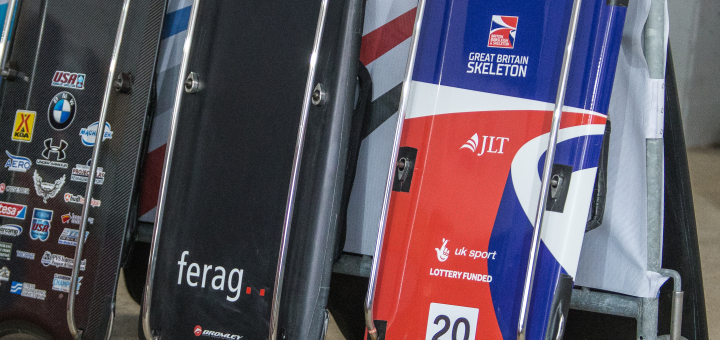 Laura Deas led the British challenge at the resumption of the Skeleton World Cup as she finished seventh in Winterberg on Friday morning.
Deas maintained her position of sixth in the world rankings as she clocked a time of 1 minute 56.68 seconds to place just outside the wider podium spots in the fourth World Cup race of the season.
Fellow Brit Lizzy Yarnold was 13th after she was dealt the worst of the conditions in the opening run. Yarnold and a few of the other sliders who started in the mid-teens in the 28-strong race were hit with heavy snow and the reigning Olympic Champion was out of contention for the medals after the first run as a result.
Ashleigh Pittaway just missed out on a second run as she finished 21st for the third time this season, missing the top 20 cut by 12 hundredths of a second.
Germany's World Cup leader and current World Champion, Jacqueline Loelling, won her second race of the season as she backed up her gold in Whistler with another fine display on the track that is just 30km from her home town.
Last year's winner in Winterberg, Canada's Elizabeth Vathje, took silver, with Elena Nikitina of Russia finishing third.
The fourth World Cup event of the season was weather affected
The men's race was reduced to just one run as the weather worsened prior to the scheduled start of the second heat.
That left Dom Parsons placing ninth as Sungbin Yun stopped Martins Dukurs' remarkable run of victories on the Winterberg track dating back to the 2008/09 season. Dukurs took silver behind the South Korean World Cup points leader, with Canada's Dave Greszczyszyn winning a first-ever World Cup medal in third.
The weather in Winterberg is known for the speed at which it changes and those changes once again had a significant effect on a British slider long before the eventual cancellation of the second run.
From a starting position of third in Run 1, Jack Thomas suffered the worst of the conditions, with commentators describing it as a 'white out'. Like Yarnold, he was met with heavy snow and blizzard like conditions at the top of the track, posting a time of 59.19 seconds before the snow cleared quickly for the sliders who followed.
Jerry Rice would also have missed out on a second run as he clocked 58.48 seconds to finish in 29th, four spots ahead of Thomas.
Jack Thomas faced particularly tough conditions in Winterberg
Attentions now turn to bobsleigh, with the Women's and 2-man competition set for tomorrow for 8.45am and 12.30pm GMT respectively and the 4-man race scheduled for Sunday at 10.30am.
World Cup (Winterberg, Germany). Women's Skeleton: 1 J Loelling (GER) 1m 55.86s (57.85 & 58.01); 2 E Vathje (CAN) 1-56.10 (58.00 & 58.10); 3 E Nikitina (RUS) 1m 40.49s (57.85 & 58.26); 7 L Deas (GBR) 1-56.68 (58.30 & 58.38); 13 L Yarnold (GBR) 1-57.78 (59.36 & 58.42); 21 A Pittaway (GBR) 1-00.08 1 run
World Cup (Winterberg, Germany). Men's Skeleton: 1 S Yun (KOR) 56.62 seconds; 2 M Dukurs (LAT) 56.68; 3 D Greszczyszyn (CAN) 56.88; 9 D Parsons (GBR) 57.39; 29 J Rice (GBR) 58.48; 33 J Thomas (GBR) 59.19