World Cup set for Sigulda sign off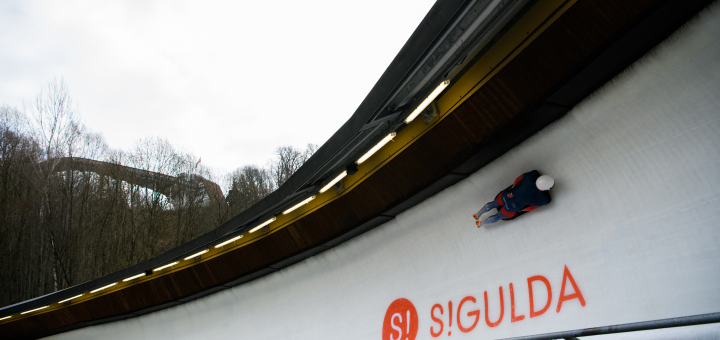 The final race on the World Cup circuit takes place in Sigulda this weekend as the sliding season nears its climax.
The eighth event on the top tier sees six athletes represent Great Britain in the skeleton races and Brad Hall lead bobsleigh crews in back-to-back 2-man competitions. Bobsledders Mica McNeill and Lamin Deen are continuing their preparations for this month's showpiece event, the World Championships, from back in the UK.
Brogan Crowley makes her World Cup debut alongside Olympic bronze medallist Laura Deas and Kim Murray, with Jerry Rice returning to the men's team for the first time since his wife, Jenny, gave birth to a baby daughter earlier this month.
Rice races alongside Marcus Wyatt and Craig Thompson, with the latter back on the top circuit after winning four medals in nine days in skeleton's second-level competition, the Intercontinental Cup.
The men's skeleton takes place at 10am GMT on Saturday, with the women's race scheduled for 8am on Sunday.
Both skeleton races double as the European Championships, with those results calculated by removing all non-European athletes from the final standings.
Brad Hall is looking to continue his fine form in the 2-man bobsleigh
Hall goes in the 2-man event with Greg Cackett at 2.30pm on Saturday, before racing again in the same discipline from 11.30am on Sunday. (The 4-man competition concluded in St Moritz a fortnight ago after the first race of 2020 featured a double 4-man competition in Winterberg.)
Despite sitting out the first two races of the season, Hall is currently 10th in the 2-man world rankings following fourth, second, sixth and eighth-place performances in his four races so far. The Slovakian and Russian crews occupying the two places directly above him are well within reach should he have a good weekend in Latvia, as the PyeongChang Olympian looks to beat his best-ever overall World Cup finish of 12th set in the 4-man event in the 2017/18 season.
This weekend's racing is followed by the World Championships in Altenberg, Germany, which begin with the women's and 2-man bobsleigh on the weekend of February 21st, 22nd and 23rd.
Race Schedule
All times are GMT
Fri 14 Feb
Women's Bobsleigh 4pm (No GB sleds)
Sat 15 Feb
Men's Skeleton 10am
Men's 2-man Bobsleigh 2.30pm
Sun 16 Feb
Women's Skeleton 8am
Men's 2-man Bobsleigh 11.30am