What a week!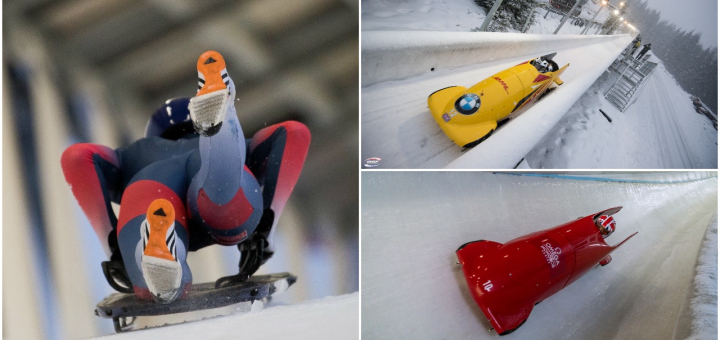 We've waited what feels like an eternity for the start of the new sliding season but now the races are coming at us from all angles!
After almost nine months without a single race since February's World Championships in Whistler, we're now just hours away from a barrage of bobsleigh and skeleton action on both sides of the Atlantic.
Over the next six days, British teams are involved in 14 races on five different circuits on five different tracks in three different countries on two different continents and four separate time zones!
We'll have upwards of 25 athletes representing the country on the world stage, some of whom have been there and done it all before time and time again and others who will be competing under the Union flag for the very first time.
We start with the 2-man bobsleigh first thing on Thursday morning as Lamin Deen and Brad Hall pilot GB sleds in Europa Cup competition in Altenberg at 8am GMT.
The bobsleigh action continues in Germany 24 hours later as Mica McNeill kicks off her season and Deen and Hall repeat the feat at the same venue, again from 8am GMT.
Mica McNeill starts her race season on Friday
Saturday sees skeleton and para bob join the mix as the Women's World Cup skeleton and the Para Bob World Cup comps begin in Lake Placid and the ICC skeleton campaign continues in Winterberg. Both Deen and Hall also pilot 4-man sleds as they round off their EC race week in Altenberg.
Olympic bronze medallist Laura Deas is joined by Madelaine Smith and Kim Murray in the World Cup women's skeleton, with Corie Mapp going for GB in the para bobsleigh and Ashleigh Pittaway, Brogan Crowley, Jerry Rice and Stefan Squire selected for the ICC races. 
On Sunday, it's the turn of our men's World Cup skeleton sliders, as well as the Europa Cup skeleton squad, with Mapp racing for the second time in two days in the Para World Cup bobsleigh in Norway.
Laurence Bostock makes his GB debut on Sunday
2018 Olympic star Dom Parsons rejoins the World Cup team after a year out to complete his PhD, with Craig Thompson and Marcus Wyatt also representing GB on the top circuit. Laurence Bostock, Amelia Coltman, Benji Fulker and Matt Weston will be making their international debuts alongside Hannah Stevenson in the EC race.
The action continues in Park City on Monday evening as Axel Brown and Marcus Urbanski go for GB in the 2-man bobsleigh on the North American Cup circuit. The same pair then bring the curtain down on a busy week in the same discipline exactly 24 hours later - giving us 72 hours rest before we start all over again in Oberhof, Winterberg and Placid!
It's a lot to take in so here's a simple breakdown of how the schedule looks for a jam-packed week of racing:
Thursday
EC 2-man bobsleigh @ 8am in Altenberg 
Friday
EC 2-man bobsleigh & women's bobsleigh @ 8am in Altenberg
Saturday 
EC 4-man bobsleigh @ 8am in Altenberg 
ICC men's and women's skeleton @ 8am in Winterberg
WC para bobsleigh @ 9am in Lillehammer
WC women's skeleton @ 2pm in Lake Placid 
Sunday
EC men's and women's skeleton @ 8am in Winterberg
WC para bobsleigh @ 9am in Lillehammer
WC men's skeleton @ 2pm in Lake Placid 
Monday
NAC 2-man bobsleigh @ 9pm in Park City
Tuesday
NAC 2-man bobsleigh @ 9pm in Park City
NB all times are GMT.
You can watch all the World Cup action via the International Bobsleigh & Skeleton Federation website and on their YouTube channel.
We'll provide updates from the rest of the races via our own social media channels and we'll post a round up of the results once they've come in.