UK Sport targets best yet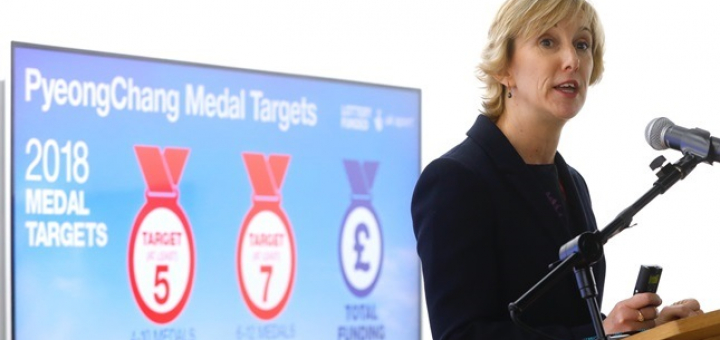 UK Sport have released the following statement as they target the nation's best ever Olympic Winter Games...
With one month to go to the Olympic and two months to the Paralympic Games in PyeongChang 2018, UK Sport is targeting its best ever Winter Games as the nation's high performance sport agency today announced the medal targets agreed with winter sports for the Olympics and Paralympics.
After numerous excellent performances from GB athletes across this winter sport season, the cumulative medal range for the Winter Olympic sports is 4-10 medals, with the target set by UK Sport of at least 5 medals which, if achieved, would mark the best ever performance in a Winter Olympics for Great Britain and Northern Ireland.
The cumulative medal range for the Winter Paralympics Games is 6-12 medals with an ambition of at least 7 medals which, if achieved, would mark the best performance in 30 years, and best since National Lottery funding came on stream in 1997.
UK Sport have invested over £32 million of National Lottery and Government funding across eight winter Olympic and Paralympic sports in the PyeongChang 2018 cycle in a bid to achieve these ambitious targets. This is more than double the investment of the Sochi cycle, which was just over £14 million.
The increased investment comes following a breakthrough performance at the Sochi Games in 2014. GB's Olympians won four medals* in Russia to equal their greatest ever haul, including a first medal on snow from Jenny Jones in the women's slopestyle. The Paralympic team won six medals, including a first ever winter Paralympic gold medal in the Women's Super-G from alpine skier Kelly Gallagher and guide Charlotte Evans.
GB's Olympic and Paralympic hopefuls are heading to PyeongChang 2018 with real confidence following a number of fantastic results.
On the Olympic front Short Track Speed Skater Elise Christie became double world champion in Olympic events in 2017.
There are multiple medal opportunities across park and pipe, cross country and alpine. James Woods and Izzy Atkin won World Championships medals last year and the likes of Katie Ormerod, Katie Summerhayes, Dave Ryding and Andrew Musgrave have all had great starts to their seasons.
Our figure skaters Nick Buckland and Penny Coomes have also qualified strongly to represent GB at the Games after a tremendous comeback following periods of serious and career threatening injury.
Reigning Olympic Champion Lizzy Yarnold won skeleton bronze at the 2017 World Championships and Laura Deas is performing well this season and as a sport have delivered consistently at the Games for the last four cycles.
While Britain's male bobsleigh team have claimed two World Cup medals – a silver and bronze - in recent months, the women's team have also delivered, breaking into the top five on the world cup circuit to demonstrate their potential.
The women's curling team led by Eve Muirhead won bronze at the 2017 World Championships and recently took Gold at the European Championships, with the men claiming silver.
On the Paralympic side, GB's Para Alpine Skiing team are in great shape. Millie Knight won four medals at the 2017 World Championships, while Menna Fitzpatrick claimed a bronze there and has started the 2018 season really well. Owen Pick and Ben Moore also won medals at the 2017 World Championships in Para Snowboard while GB's wheelchair curlers claimed a bronze medal at the 2017 World Championships.
UK Sport Director of Performance Chelsea Warr said: "After a number of strong performances from GB athletes across this winter sport season, our agreed medal target with sports shows that PyeongChang 2018 has the potential to be our best Winter Games yet.
"We know that our goals for any Games are always ambitious. However, this is a particularly stretching target given the high risks, low margins for error across a range of events we have medal opportunities in, and in some events more unpredictable outdoor terrains that our athletes will need to skilfully navigate. Nevertheless, some fantastic work has gone on behind the scenes by all the teams working with our athletes to ensure they are the best prepared in the world".
Through our close collaboration with the British Olympic Association (BOA), the British Paralympic Association (BPA), the National Governing Bodies (NGBs) of sport and the Home Country Sports Institutes (HCSI), we know that our athletes will inspire the nation again.
Minister for Sport Tracey Crouch said: "After some fantastic results over the past 12 months, our Olympians and Paralympians will be giving everything to win medals in PyeongChang and build on the success of Sochi in 2014.
Our country's fantastic success at recent Olympic and Paralympic Games would not have been possible without the generosity of National Lottery players and funding from the government.
"I know the country will be right behind our athletes when they take to the snow and ice in South Korea in a few weeks' time."
Minister for Disabled People, Health and Work Sarah Newton said: "Our Olympic and Paralympic athletes are fantastic role models who will go on to inspire people of all ages and backgrounds when they compete at PyeongChang 2018. ParalympicsGB will be targeting their best performance since National Lottery funding began, and I like the rest of the nation will be cheering them on at every stage along the way.
"As we have seen over recent Games, the Paralympics is a very powerful driver for change and wider social inclusion. Quite rightly, it puts disabled people's phenomenal achievements into the spotlight, and helps to improve wider perceptions of disabilities."
Team GB Chef de Mission Mike Hay said: "The target of a best ever Olympic Winter Games is indicative of just how far the athletes and their National Governing Bodies have progressed over the past four years. It is a reflection of the growth we have seen across many of our winter sports that they have medal potential on the world stage and that Great Britain is a now viewed as a credible winter nation.
"There is however, no guarantees in winter sport and the winning margin in fine.
For Team GB it is about more than just the medals, our best ever Games will also be determined by those athletes who record personal best performances in their sports.
ParalympicsGB Chef de Mission Penny Briscoe said: "Whilst this is a challenging target, there has been significant progress over this cycle for our winter sports and this has been reflected through medal success at World Championship and World Cup level. The team is an exciting blend of experienced athletes and debutants with significant medal potential across the sports.
"Thanks to the support of the National Lottery, UK Sport, Help for Heroes and Home Country Sports Institutes this will be the best ever prepared ParalympicsGB team and I look forward to seeing the athletes perform on snow and ice."
Nigel Walker, National Director at the English Institute of Sport said: "More than 30 EIS practitioners, along with members of our Performance Innovation team, have been working with a range of winter sports over the last four years, providing a series of services designed to help athletes and coaches drive improvements in performance through the application of science, medicine, technology and engineering.
"We have also had responsibility for the management of the World Class Performance Programme for Short Track Speed Skating since 2015 and have worked very closely with Performance Director, Stewart Laing, and his coaches to help ensure the team have had the best possible preparations for PyeongChang.
There is much optimism heading into the games, and rightly so.
"Our best wishes go to all GB athletes and to the 14 EIS staff members who are travelling to PyeongChang to be part of the Team GB or Paralympics GB support staff."
The event also saw UK Sport and the Korean Cultural Centre UK launch a joint photo exhibition titled "The Winter Wonders of PyeongChang".
The exhibition, featuring some of the best GB and Korean medal prospects for PyeongChang, celebrates the 2018 Olympics and Paralympics and the close relationship between the two nations. It is on view from 10th January to 17th February.
UK Sport Chair Dame Katherine Grainger said: "UK Sport is delighted to partner with Embassy of the Republic of Korea and the Korean Cultural Centre UK to launch the exciting "The Winter Wonders of PyeongChang" exhibition.
"The exhibition introduces the disciplines, athletes and venues of PyeongChang 2018 and is a real celebration of the Olympic Spirit and the strong friendship between Korea and the UK.
"It is fantastic that the exhibition is open to the public for free and I hope that as many people as possible are able to visit the Korean Cultural Centre UK in London to learn more about our winter Olympic and Paralympic heroes.
"It is with great privilege and pride in my role as Chair of UK Sport to be able to join our athletes in PyeongChang and to share in those inspirational moments that as a nation make us so proud."
*GB could be awarded a fifth medal from the Sochi 2014 Olympic Games in the 4-man Bobsleigh competition following the disqualification of two Russian sleds.