Top tier returns to La Plagne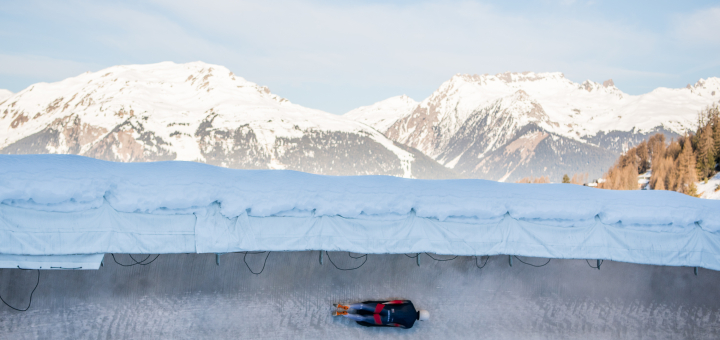 The World Cup circuit returns to La Plagne this week for the first time in five years.
The French venue hasn't featured on the sport's top circuit since February 2015 but that absence will be ended this Friday when the women's and then men's skeleton kick off an action packed three days of racing. 
Women's bobsleigh and 2-man bobsleigh follow suit on Saturday before the 4-man competition brings the curtain down on the fourth stop of the World Cup tour on Sunday.
Track conditions saw the men's skeleton race shortened to a single run and the women's competition cancelled altogether five years ago and the circuit has only appeared as a Europa Cup venue on a single occasion in December 2017 since then.
Marcus Wyatt will aim to build on his back-to-back eighth-place finishes in the last two men's skeleton races, with Jerry Rice and Craig Thompson joining him on the start line, just as they did last weekend in Winterberg.
Kim Murray and Madelaine Smith return to join Olympic bronze medallist Laura Deas in the women's race at 1pm on Friday. 
None of the six Brits have taken part in a World Cup race in La Plagne and only Murray has ever raced there previously on another circuit. The 31-year-old from the Isle of Wight won Europa Cup silver in December 2017 and finished fourth 24 hours later in her two outings so far.
La Plagne hasn't featured as a World Cup venue for five years
It's a similar story for the bobsleigh team when it comes to experience in La Plagne: Mica McNeill has only raced the course on the EC circuit back in 2012, with Lamin Deen not having raced here since the same year. Brad Hall's solitary World Cup race in La Plagne came in the 2-man event in 2015, while Ben Simons is the only brakeman or woman in the squad to have competed on this track. 
As well as the World Cup racing in France, British athletes are involved on the EC circuit in Austria this week.
Laurence Bostock, Benji Fulker and Matt Weston go in the men's skeleton, with Amelia Coltman, Rachel Hanagan and Hannah Stevenson in the women's field for a back-to-back double header on Friday and Saturday in Igls.
Race schedule
Fri 10 Jan
EC Women's Skeleton 8am in Igls
EC Men's Skeleton 8.30am in Igls
WC Women's Skeleton 9am in La Plagne
WC Men's Skeleton 1pm in La Plagne
Sat 11 Jan
EC Women's Skeleton 8am in Igls
EC Men's Skeleton 8.30am in Igls
WC Women's Bobsleigh 9am in La Plagne
WC Men's 2-man Bobsleigh 12.30pm in La Plagne
Sun 12 Jan
WC Men's 4-man Bobsleigh 10.30am in La Plagne
You can watch all the World Cup action via the International Bobsleigh & Skeleton Federation website and on their YouTube channel.
We'll provide updates from the rest of the races via our own social media channels and we'll post a round up of the results once they've come in.