Top tens to start 2020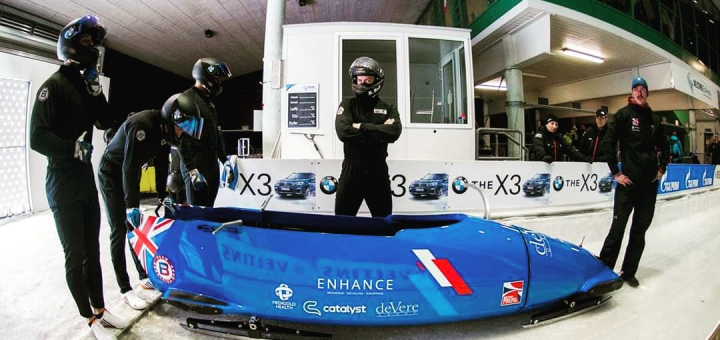 The first World Cup races of 2020 featured three top tens for the British teams as Brad Hall and Marcus Wyatt led the way in Winterberg.
Hall kicked off the European leg of the World Cup circuit with back-to-back ninth and tenth place finishes in the 4-man bobsleigh on Friday and Saturday, while Wyatt placed eighth in the men's skeleton on Sunday.
Hall's results came on the back of a disrupted start to the season pre-Christmas when he lost first-choice crew members Sam Blanchet and Alan Toward to injury and suffered from fitness issues himself, meaning he struggled to get the race time he was looking for on the Europa Cup circuit.
But new team member Luke Dawes impressed alongside returning Olympian Greg Cackett, while Royal Marine Taylor Lawrence made his World Cup bow after just a handful of training runs with the crew earlier in the week, as Hall recorded his best 4-man result since November 2017.
Wyatt matched his effort from the previous World Cup race in Lake Placid as he finished 84 hundredths behind race winner and reigning Olympic Champion Sungbin Yun in Germany to stay eighth in the world rankings after three races.
Jerry Rice and Craig Thompson placed 15th and 26th respectively in the same race as Wyatt, while Laura Deas and Ashleigh Pittaway were 13th and 14th in the women's event.
Marcus Wyatt was eighth for the second successive race
In the women's bobsleigh, former British 100m record holder, Montell Douglas, marked her return from injury with a 12th-place finish alongside Mica McNeill. Like Hall and Deen, McNeill was competing on the World Cup circuit for the first time this season, having begun the campaign on the EC circuit before the New Year.
Lamin Deen, Ben Simons, Olly Butterworth and Ryan Letts were 13th in the same race as Hall and co on Friday and 15th the following day when Tremayne Gilling replaced Letts on the back of the sled.
Next stop for the World Cup athletes is Race 4 in La Plagne, France, this coming weekend. The skeleton team have a short turnaround as both the men and women compete this coming Friday, with the women's and 2-man bobsleigh scheduled for Saturday and the 4-man set for Sunday.
Race results:
Fri 3 Jan
Men's 4-man Bobsleigh: Hall, Cackett, Dawes & Lawrence 9th; Deen, Simons, Butterworth & Letts 13th
Sat 4 Jan
Women's Bobsleigh: McNeill & Douglas 12th
Men's 4-man Bobsleigh*: Hall, Cackett, Dawes & Lawrence 10th (8th); Deen, Simons, Butterworth & Gilling 15th (11th)
*The race doubled as the European Championships, with those placings in brackets
Sun 5 Jan
Men's Skeleton: Wyatt 8th; Rice 15th; Thompson 26th
Women's Skeleton: Deas 13th, Pittaway 14th
Race schedule:
Fri 10 Jan
Women's Skeleton 9am GMT
Men's Skeleton 1pm
Sat 11 Jan
Women's Bobsleigh 9am
Men's 2-man Bobsleigh 12.30pm
Sun 12 Jan
Men's 4-man Bobsleigh 10.30am