Top six again for Hall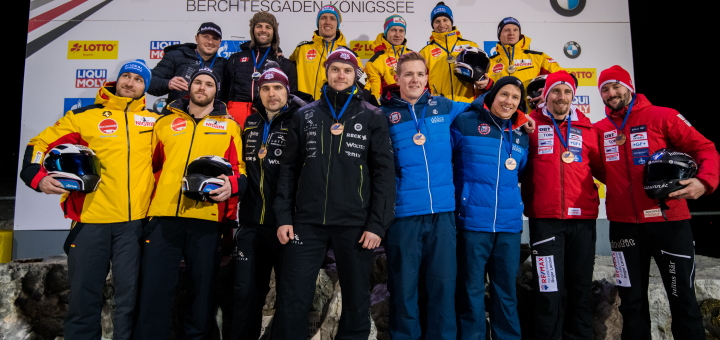 Brad Hall backed up last week's 2-man medal winning performance with another wider podium place on Saturday, before recording a top ten finish in the 4-man on Sunday.
Hall and brakeman Greg Cackett, who won silver in Igls for the country's first World Cup 2-man medal since the 1980s a week ago, finished sixth in the same event in Konigssee seven days after their history making moment in Austria.
The pair were only beaten by a trio of German sleds on home ice, plus Olympic Champion Justin Kripps and World Championship silver medallist Oskars Kibermanis, as they registered their third top six spot in as many 2-man races.
Hall and Cackett sat fifth at halfway, just eight hundredths of a second from the medals, before eventually finishing 0.32 seconds from bronze in a time of 1 minute 39.51 seconds.
They recorded the joint third fastest start times in each run as they pushed off in 4.92 and 4.91 seconds for a big improvement from their previous weeks' racing in Igls and Winterberg. Those times were made even more impressive by the fact that Cackett remains considerably lighter than most of his rivals, meaning the Brits have a heavier sled to push over the first 50m.
Sunday's four-man race saw Hall and Cackett place 10th after linking up with Luke Dawes and Taylor Lawrence - an improvement of two spots from last week's showing. Hall's crew clocked a combined time of 1 minute 37.82 seconds to record their fourth top ten finish in five 4-man races this season.
Brad Hall's crew were 10th in Sunday's 4-man race
Fellow Brits Lamin Deen, Olly Butterworth, Ben Simons and Ryan Letts finished just a tenth of a second behind their team-mates in 12th spot after coming down 11th quickest in both runs. Deen's crew matched Hall's start time of 4.96 in Run 1, before beating it by four hundredths of a second in Run 2.
The teams' 4-man finishing positions in Kongissee were the opposite of their efforts in Igls, when Deen and co placed 10th and Hall's crew 12th.
Lamin Deen piloted his 4-man team to 12th
Deen had earlier finished 20th in the 2-man event with Letts, while the women's team of Mica McNeill and Montell Douglas were 12th in their first race for two weeks on Saturday.
Illness had forced McNeill out of last week's race and the 2018 Olympian had again suffered this week, missing training runs as a precaution in the lead up to the weekend.
McNeill and Douglas, who only joined up with the team earlier this month, finished in 1 minute 42.76 seconds after recording the 12th quickest times in each heat.
Mica McNeill and Montell Douglas were back in action after missing Igls
Germany's Francesco Friedrich continued his dominance of the men's competition by winning both the 2-man and 4-man races, with Kaillie Humphries recording her third win of the season and her first in Europe since January 2018 in the women's race.
Next up for the British Bobsleigh teams is the penultimate destination on the World Cup circuit, the world famous St Moritz track in Switzerland, this coming Saturday and Sunday.