Thompson excited to step up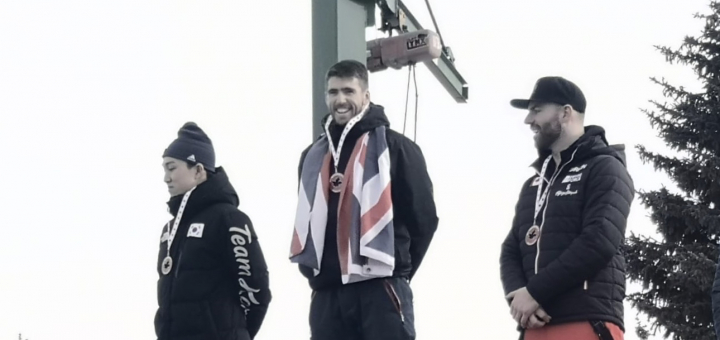 Craig Thompson says he'll face a mixture of emotions when he makes his World Cup debut in the United States this Saturday.
Thompson steps up to skeleton's top circuit for the first time when the globe's best sliders return to action in Lake Placid after a two-week break from competition.
The 26-year-old former footballer finished second in the overall Intercontinental Cup standings this season, medalling three times in eight races and making the wider podium on a further three occasions. He won bronze in Placid on his last outing in late January but he knows that Saturday is a step into the unknown.
"It's a mixture of excitement and nerves," said Thompson, who will join Jerry Rice and Marcus Wyatt in the British team for the men's race in New York State.
"It's my debut World Cup race and that's a long-term target when you come into the sport.
It wasn't something I'd put a time limit on and I wasn't chasing it right now, though, so I see this week is an added extra.
"My season was done: the ICC season was over and this is just a bonus. This is dessert for me!"
Craig Thompson makes his World Cup debut on Saturday
Saturday will be significantly different to any other races Thompson has been part of previously in terms of TV cameras, crowd noise and public interest but he insists his approach won't change.
And, while it might appear clichéd, it's an approach that has been taken by dozens of other British Skeleton sliders, many of whom have gone on to achieve great things on the big stage.
"I'll approach it the same as I approached all the ICC races.  I'll keep it nice and simple. I'll have a simple plan to follow and I'll look to stick to it," added Thompson.
I had a chat with Jimmy (Coach James Howard) and he told me that 'it's just another race. Nothing changes: it's still just you against the track. You've been there before and this is no different.'
"To be honest, I don't know if I'm good at blocking out everything that's going on around me as I've never been in that situation. It'll be a good experience to see to if I am good at it or not! I liked playing in the big occasions as a footballer but that's a very different sport. You can't compare football to skeleton. 
"Seeing team-mates like Marcus (Wyatt) step up and do well is obviously a big confidence boost but I've got to concentrate on me. I'm going to go out there and do my thing.
"It's a great chance for me to step up and I'm grateful I've been given that opportunity. It's going to be a brand new experience for me but I'm excited to see what I can do."
RACE SCHEDULE:
Fri 15 Feb
Women's Skeleton 1.30pm
Women's Bobsleigh 6pm & 8.15pm*
Men's 2-man Bobsleigh 7pm & 9.15pm*
Sat 16 Feb
Men's Skeleton 2pm
Men's 4-man Bobsleigh 6.30pm
*1st run Women's Bobsleigh, 1st run 2-man Bobsleigh; 2nd run Women's Bobsleigh, 2nd run 2-man Bobsleigh
All times are GMT