Ten Olympians in GB Bobsleigh squad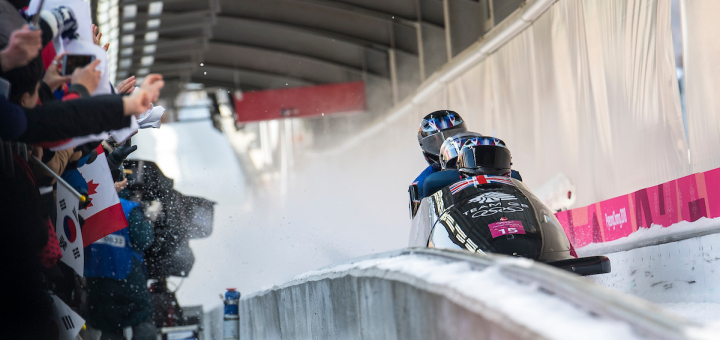 British Bobsleigh Head Coach Lee Johnston has selected 10 Olympians in a 17-strong team for the 2018/19 season, which begins next month.
Mica McNeill, Brad Hall and Lamin Deen will pilot British sleds this season, with all three competing across the World Cup and North American Cup circuits before heading to the World Championships in Whistler in March of next year.
"I believe that the teams we have selected have the ability to bring home some excellent results, just as they did last season," said Johnston, who saw Deen and Hall win World Cup silver and bronze respectively in 2017/18, while McNeill recorded the best World Cup finish by a British women's team for almost nine years when she finished fifth in Whistler in November.
"While the results in the 4-man competition at the Olympics weren't what we had hoped for, we had some fantastic performances last season. Both Brad and Lamin showed they can compete with and beat the very best and Mica produced a string of outstanding results prior to excelling at the Olympics.
"It would be great to see last season's World Cup results replicated in some places and even bettered in others. The tracks that feature on this year's circuit are, on the whole, tracks that we have been successful on in the past, and I don't see why this season should be any different."
McNeill will be joined by Montell Douglas and Aleasha Kiddle as she looks to build on her British-best eighth-place finish at February's Olympic Winter Games in PyeongChang. Douglas, who travelled to South Korea as a reserve eight months ago, is a former British record holder over 100m and was a summer Olympian in 2008, while Kiddle has been part of the squad for the past four years and was fourth at the World Junior Championships alongside McNeill in 2016.
Hall, who made his Olympic bow in PyeongChang when he finished 12th in the 2-man and 17th in the 4-man competitions, will work with a squad of four push athletes, three of whom have at least one Olympic Games under their belt.
Joel Fearon and Ben Simons are both double Olympians, with Fearon in line for a retrospective bronze medal from his fifth-place finish in Sochi following the disqualification of two Russian sleds. Paratrooper Nick Gleeson made his World Cup and Olympic debuts last year at the age of just 21, while former Great Britain and England discuss thrower Alan Toward is part of the team for the first time since his summer switch from athletics.
Like Hall, double Olympian Deen will pilot both a 2-man and a 4-man sled this season, with the Grenadier Guardsman working with a squad of eight athletes.
Work commitments mean PyeongChang Olympian Toby Olubi will not be available fully until the World Championships (where he could be selected to push either Deen or Hall) but fellow Olympians John Baines and Andrew Matthews will compete for spots in Deen's sled with Axel Brown, Tremayne Gilling, Adam Hames, Ryan Letts and Nathan Togun.
"We have lost a few of the athletes from the Olympic season but the athletes that have stayed on have worked hard and are in a good place," added Johnston.
"There will always be athletes who choose not to continue at the end of an Olympic cycle and we fully understand that. We wish them all the best for their next adventures and we move on with what is a really talented group.
We've still got a huge amount of experience in the squad, plus we've got a new addition in Alan Toward and a number of others who are desperate to take their opportunities.
"We have had a lot of ups and downs in the last 18 months but I hope this season is the start of a great run up to the Beijing Olympics in 2022."
GB Women's Team
Mica McNeill (pilot)
Aleasha Kiddle
Montell Douglas
GB Men's Team
Brad Hall (pilot)
Joel Fearon
Nick Gleeson
Ben Simons
Alan Toward
Lamin Deen (pilot)
John Baines
Axel Brown
Tremayne Gilling
Adam Hames
Ryan Letts
Andrew Matthews
Toby Olubi
Nathan Togun