Sun and ice for Skeleton squad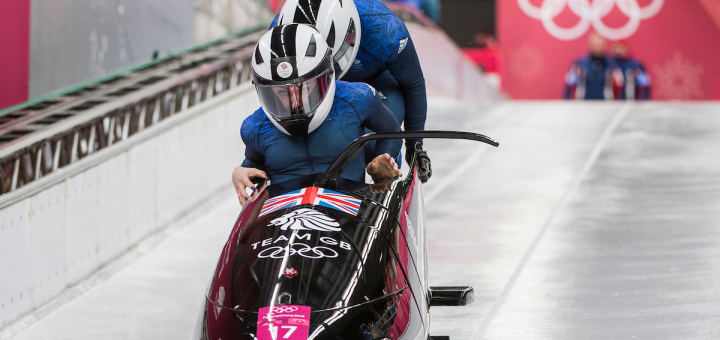 GB Skeleton are combining sun and ice twice this month as they step up preparations on the path to Pyeongchang.
With the Winter Olympics in South Korea now just six months away, the squad have split into two for a brace of back-to-back camps in Cesana, the venue of the 2006 Games in Turin.
The aim is to increase the intensity and focus fully on the push aspect of what's needed to be a successful slider, building on the blocks put in place in Bath throughout the summer and getting the group ready for their official return to the ice in October.
"The camps are set up to mainly focus on push performance," said Ed McDermott, Head Start Coach at GB Skeleton.
"We're here in Cesana for five days with each group and we're pushing every day. We'll be concentrating on that transition to ice and developing that skill. It's about making sure that what we're doing at home is what needs to be done on the ice.
"It's a higher intensity camp than our standard week at home when it comes to pushing: we'll be at the push house for about three hours every day.
In a normal training week back in Bath, we'd do between 12 and 18 pushes per athlete, while in Cesana we're looking to do between 24 and 40. That's massively important in terms of generating volume and exposure to the skill.
"The way we get around that extra push workload is that we take out quite a bit of the lifting that we do in the UK. A lot of the other training drops away so we can purely focus on the push work. That ensures the team aren't fatigued and are in a fresh state to push, and push well.
"As well as the technical aspect of the week, there are performance and execution expectations. The camps form a part of our push profiling so we can see where each of the athletes is at, so it's certainly not a holiday by any means."
The now redundant Turin track is set in spectacular surroundings
It may be a million miles from a vacation when it comes to the workload and the weight of expectation but McDermott and Strength and Conditioning coach Mitch Smith admit that an alternative climate and a fresh view every morning will undoubtedly have a positive effect.
"The athletes have definitely been looking forward to it," said Smith.
"The weather should certainly boost morale. We usually go away to colder places and at colder times of the year so this gives them a little bit of Vitamin D exposure. There was a real buzz surrounding a change of scenery and a better climate and you can feel that now that we're here."
"The Vitamin D, the different weather and the different environment definitely does help sharpen the mind," added McDermott, who also sees the camp as a timely reminder that the race season will be here before we know it.
The whole environment should get everyone back towards race mode. It's similar to what we would do when we race: we travel abroad; we go to a specific track; we set up; we perform; we leave and head to the next venue. This is what we would be doing out on the circuit when we compete.
"It is taxing but it should also be quite refreshing. We've got five or six weeks when we get back before we go out on ice for real so this should help focus the minds and put us in a good place for what is a big season ahead."