Success shows Brits can match the best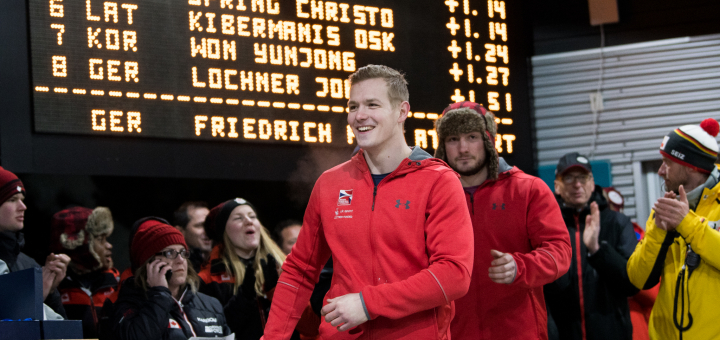 Sunday morning's stunning fourth place finish at the World Championships shows British Bobsleigh have the ability to compete with the very best according to the men at the centre of that success.
Brad Hall and Nick Gleeson equalled the nation's best 2-man finish at the season's showpiece for fully 53 years when they just missed out on a medal in Canada.
Only reigning joint Olympic Champions, Francesco Friedrich and Justin Kripps, and four-time World Championship medallist, Nico Walther, finished ahead of Hall and Gleeson in Whistler despite the fact that the British pair are in their first season together as a two-man team.
Throw in the fact that the former decathlete and serving Paratrooper have had limited time in their rented sled after raising money via a crowd funding campaign and Sunday's result appears even more impressive.
"We're definitely really happy with how it went. Fourth place is a lot better than we would have thought at the beginning of the year so to come away with that kind of result is very encouraging," said Hall.
We've made massive progress this year, in the push and in the drive.
"We had three PBs in a row on the World Cup in January and we were the first British 2-man team to get a top-six World Cup finish for 13 years in our last race before coming here.
"The equipment helped as well. Getting the right equipment for the World Championships is what we were raising money for and getting that has been a big boost. We'd like to say a big 'thank you' to everyone out there who has donated or given us sponsorship towards our cause.
"I hope we did the job and made you all proud. Hopefully, we can build on that into the future."
Brad Hall & Nick Gleeson have made huge strides this season
"The push went very well, and we're happy with that," added Gleeson, who became Britain's youngest Olympic bobsledder when he competed in PyeongChang as a 21-year-old 13 months ago.
We were in the mix in the top three or four starts all race and that's where we wanted to be.
"Personally, that's what I've been training for and I don't think we could have done much better."
British Bobsleigh had transitional funding for the 4-man and women's team for the 2018/19 season but those funds could not be spent on the 2-man team.
And with no future UK Sport funding in place for the rest of the Beijing Olympic cycle, Performance Director Lee Johnston believes the team have taken a significant step towards proving they are worth investing in. 
"The whole team, staff and I are extremely happy for Brad and Nick and their fourth place. It's a huge achievement," said Johnston.
"This shows that Brad and Nick can cope with pressure at the top of the sport, despite their inexperience. Brad's been competing against drivers with numerous Olympic, World Champs and World Cup medals between them and this is Nick's first World Championships.
"When you are in the mix with Olympic champions and medalists, it takes true focus to stay on it. They did exactly that over four heats and that says a lot about their mental as well as physical strength.
"They have both shown on several occasions leading up to this point that they can start with the best in the world and Brad has driven very well for the last seven days here.
I hope this shows everyone in Great Britain that we have an immense amount of talent moving towards Beijing.
"Let's hope Brad and Lamin (Deen) can take their skills into next week for the 4-man race and that Mica (McNeill) and Montell (Douglas) can find the magic Mica has had all season when they race again on Sunday night."