Stevenson seeks new challenge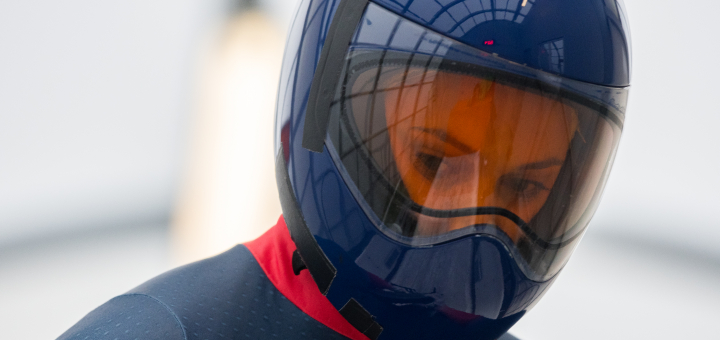 British Skeleton slider Hannah Stevenson has announced her retirement after five years in the sport.
The 26-year-old from Nottingham was a gold medal winner on the Europa Cup circuit this season but has decided now is the time to seek a new challenge.
"It's not been an easy decision - there's been a lot of toing and froing," said Stevenson, who first joined the Future Talent group in 2015/16.
"I've loved the summer training and I was thinking 'why would I ever want to leave that,' but I wasn't enjoying the winter as much and I realised that it wasn't the be all and end all for me anymore.
"I love the sport but I wasn't enjoying sliding as much as I used to. I had to take a step back over Christmas because I'd had a really positive summer and was in the best physical shape I'd ever been in - which was showing through my push times - but it felt as though my sliding had gone backwards.
"I didn't feel like I was putting in any less work than I had done before but I wasn't really enjoying being on the sled. I then had that running through the back of mind, I wasn't as relaxed, I was tense on the sled, and that affected my performance.
There's definitely a sadness to be leaving but I know it's the right decision for me.
"It's been a great experience, though, and I can't thank the programme enough for giving me the opportunity."
"To have represented Great Britain and stood on the top step of an international podium is something that Hannah can reflect on for life and be very proud off - very few athletes get to do that," said Danny Holdcroft, Head of Talent and Innovation for the British Skeleton programme.
As an athlete, Hannah has brought a lot to the programme over the past few years. She has helped us continue to move forwards and making the decision to retire is always a difficult one.
"Our aspiration as programme is that we help develop both athletes and people and we will now focus on supporting Hannah in her transition to the beginning of her next journey. Of course, it goes without saying that we wish Hannah all the very best for her future." 
Hannah Stevenson medalled in just her second race for GB in 2017
Stevenson's final season in skeleton saw her take top spot on the sport's third circuit in Winterberg three-and-a-half months ago and she insists that achievement will live with her long after she leaves the programme.
The same goes for her debut weekend of racing back in November 2017 when she won bronze in just her second international event as GB claimed a clean sweep of the EC podium in Lillehammer.
"My first two races for Great Britain were a big highlight," added Stevenson.
"Coming fourth on the first day in Lillehammer and then stepping up and getting third a day later was really special. Having Brogan (Crowley) and Ellie (Furneaux) on the podium, too, was amazing - that's definitely right up there as a memory I won't forget.
"I had a difficult second year with injury to my ankle but the work I put in over last summer with Mitch and Ed (coaches Mitch Smith and Ed McDermott) set me up really well for the season and taking a significant amount of time off my start on the push track was a great reward before heading out to ice. To be able to then carry that out on to ice by taking a chunk off the start at pretty much every track I've been on this year was a good feeling.
Getting the win in Winterberg was great. I said at the start of the year that I wanted to win medals on EC and, when I was asked if there were any tracks in particular, I said Winterberg.
"It's my favourite track, I'd been fourth there before and I knew I could hit good speeds there. I was really happy to get that win (especually alongside new ice coach Matthias Biedermann who's been great to work with this season) - it's always nice to beat the Germans on their own track!
Winning in Winterberg is a career highlight for Hannah
"It was actually a pretty strange feeling, to be honest. I was joint second after the first run so I was third from last off in the second run. I held my spot and then went into the changing room to get my bag and walk back out to watch the other two athletes on the TV screens but there was a doping official there and she said, 'You can't leave this room until the race is over because you're in position number one'. I had to just try and peer outside to see what was happening and that was how I found out I'd won!
"Standing on the podium was really special. It's a bit surreal: hearing the national anthem playing isn't something that many people get to experience. It's a memory that will last a long time, especially as it was just a couple of weeks after my granddad died - that brought it home even more. That trophy takes pride of place in my home at the moment."
Hannah raced 16 times for her country
Although she won't be competing for GB as an athlete anymore, Stevenson still intends to pursue a career in top-level sport.
A Master of Science (Applied Sport and Exercise Science) from Sheffield Hallam University, the former sprinter has always had a real interest in the data behind performance and that is now where she sees her future.
I do feel positive about what lies ahead. I'm still interested in the sport and I find it really interesting from a sport science perspective.
"I always took an interest in the data side of things. I always wanted to see my graphs because I'm that way inclined. I'd definitely like to stay in sport and that's the area where I think I can really apply myself.
"And I definitely feel like I'm leaving the programme better prepared for a career than when I started. I've learnt so much more here than just being an athlete that I can take forward into life in general.
"I'm going away with some really good memories as well. A lot of people find it strange that we're a really strong team because we go down the ice on our own and it's just you on the sled at the end of the day, but we're like a family. I'll miss everyone, to be honest. They've all influenced my life in some way or another and I've made friends for life."