Stevenson seals maiden gold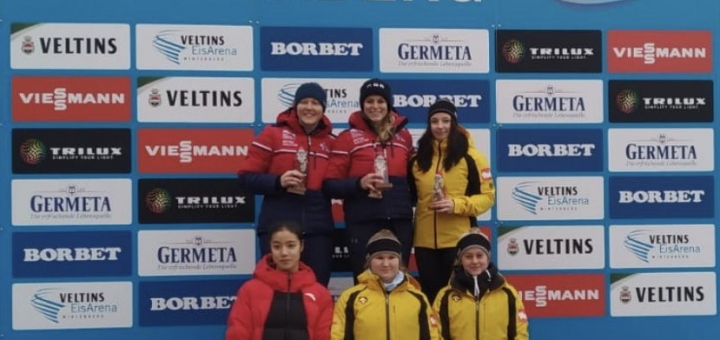 Hannah Stevenson enjoyed the perfect start to the sliding season as she took Europa Cup gold in Winterberg on Sunday.
Stevenson claimed her maiden race win in what was her first international competition of 2019 after injury ended her previous campaign prematurely pre-Christmas.
The result was even more impressive given that the 26-year-old is mourning her grandfather, after he passed away just prior to her departure for Germany.
"It's been a tough couple of weeks with my Granddad passing away so it was nice to win and dedicate the trophy to him," said Stevenson, who has just started her third season of international competition.
I was out in Winterberg two years ago and just missed out on a medal when I finished fourth so I really wanted to medal this time.
"I really enjoy the track - it's one of my favourites - but, to be honest, during training, I wasn't sure that I was going to be able to make the top three so it was a really good feeling to be able to put it all together for the race."
Stevenson clocked a combined time of 1 minute 58.68 seconds as she jumped from second spot after Run 1 to take her first race win in 10 attempts since her debut in November 2017.
The former sprinter saw off four German sliders on their home ice in a 24-strong field and pipped fellow Brit Amelia Coltman to gold by 12 hundredths of a second after they recorded identical times in Run 2. 
Hannah Stevenson and Amelia Coltman shared the podium on Sunday
"I was happy with the position I was sitting in after the first run and I was then able to put down a solid second run to get the win," added Stevenson.
It was great to be able to share the podium with Amelia on her debut as well. That's something I experienced with Ellie (Furneaux) and Brogan (Crowley) a couple of years ago in Lillehammer when we had a clean sweep of the medals. I can understand how excited she was and it was really nice to be a part of that experience with her.
"The result and the performance has put me in a good place heading into Konigssee for a double race this weekend. Now I've got to make sure I keep that level of performance going on Saturday and Sunday but I'm excited about what lies ahead."
"It was a great start for Hannah - it was a phenomenal result," added Danny Holdcroft, Head of Performance Innovation and Applied Research for the British Skeleton team.
She's had her ups and downs over the last 18 months so to see her back on the podium is great. It's a reflection of what her natural talent is able to produce."
Next up for Stevenson is Race 2 of the EC season in Konigssee at 8am GMT this Saturday.
Race 3 follows exactly 24 hours later before the circuit takes a break over the festive season until Race 4 and 5 take place in Igls on January 10 and 11.