Spirit central to success says Weston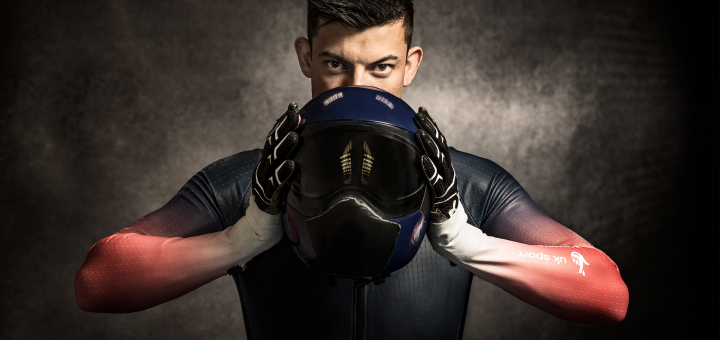 Main pic by Neil Shearer
Team spirit probably isn't the first thing that springs to mind when it comes to success in an individual sport but it's a mantra that rings out loud and clear when you speak to British Skeleton sliders.
Lizzy Yarnold and Laura Deas stressed the importance of working together to win Olympic medals in PyeongChang in 2018 and the younger generation are fully aware that unity is key to their own chances of success on the big stage.
While they are competing against each other for a place at the Winter Olympics in 2022 or 2026, they know that sharing information on racing lines, picking each other up when they've had a bad day and pushing each other on to be the best they can be could make the difference between winning and losing in both the short and long term.
"We do act like we're a team sport even though we're clearly not," said Matt Weston, one of seven athletes who hope to compete for Great Britain for the first time this season.
That's definitely a good thing and it makes a real difference. We all pull each other up and we give each other a hand if someone's struggling. You're never really on your own: there's always someone there to pick you up if things aren't going right.
"It definitely helps because I can talk to my peers about things I'm struggling with and vice versa. You help each other instead of keeping things to yourself, which is a danger in quite a lot of individual sports. Our communication and support network as a nation is a real strength.
"I used to play rugby and we've kind of adapted a similar attitude here where you're only as good as your weakest player. A lot of the squad have come from team sports and we've all brought that same ethos."
Teamwork played a key role in Olympic success for Laura and Lizzy
And it's not just if things aren't going well for Weston and co that the support comes to the fore.
"The support's there 24/7 and it's obvious in the good times, too. If you're doing well, your team mates are there to congratulate you and nobody's really bitter about it," added Weston.
"If someone beats me - or I beat them - in training, you just sort of go 'well done mate, that was really impressive', and it urges you to do better. As a squad, we all push each other forward.
We're constantly getting each other to go that extra mile in training and that stops us from getting complacent.
"If one of the guys goes quicker than me on the push track or lifts heavier than me in the gym, it spurs me on to go quicker or heavier. And it works both ways. Lots of us are pretty closely matched so we're always trying to better each other and that means there's no danger of us standing still.
"I know that everyone else getting better will ultimately make me get better, too, and I think we all feel that way."
The camaraderie that has become part of the culture at British Skeleton takes on added importance when you consider that nearly everyone that joins the programme has no prior background in the sport.
The athletes who make it through the hugely successful UK Sport led Discover Your Gold talent ID scheme go from being highly skilled and highly competitive in another sport to being a complete novice in skeleton.
Those that make it through to the Talent Squad do so with a minimal amount of ice time under their belt and they are rightly reminded that the journey to the top is likely to be a long one.
That combination of patience and willingness to learn, together with an understanding that short-term success in their skeleton career might not look how it would have done in sports they have competed in for years before doesn't come easily to everyone but Weston says he's enjoying the unique psychological challenge that it brings.
"I enjoyed that aspect of the switch to skeleton straight away. I like the challenge. But I have seen and heard of others struggling with going from being one of the best in another sport to starting from scratch and perhaps seeing other people progress at a faster rate than them early on.
"For me, I try and take the positives from that because I know that we all progress at different speeds and I know that the system we have in place here has a history of medal-winning success. Rather than get frustrated, I trust the coaches we have here because I know they've seen it and done it all before.
If I'm not doing the best, I like that the different sort of buzz that brings. I say to myself, "well I'm going to try even harder" and use it as a motivator rather than letting it get me down.
"I'd be lying if I said it wasn't tough starting from scratch, though. You go into a brand new sport and you've never really had an experience like it. It's something completely different and it kind of shocked me at how different it was."
Matt Weston is now in his third year with British Skeleton
It's certainly a very different sport to anything Weston had experienced before, although pretty much everything is unless you come from luge or bobsleigh!
The 22-year-old has a background in rugby union and in weightlifting but it was in taekwondo that he'd enjoyed the most success prior to his switch to skeleton.
"I won the Euros for England at taekwondo in 2012 and got a silver in the World Cup in 2014 in so I'd been competing to a good standard before a back injury meant I had to stop at 17. I'd also been playing rugby at county level but I'd gone to the Discover Your Gold trial not really expecting anything.
I did weightlifting at the time and my weightlifting coach told me to go along because I was quite quick playing rugby and I was quite explosive but I didn't think anything of it. I thought I'd go there and just see what I could do.
"They had targets there for things like the best of the day and I was beating the jumps targets by a little bit which made me think like 'ah okay, I might be able to progress somewhere here'.
"I enjoyed the whole trialing process because it was just so different to anything I had ever done but I thought that when we got to the skeleton specific trial everyone was going to blow me out the water. It was a real surprise when I found out I'd made the team but I've loved every second of it since."