Smith sets sights on strong showing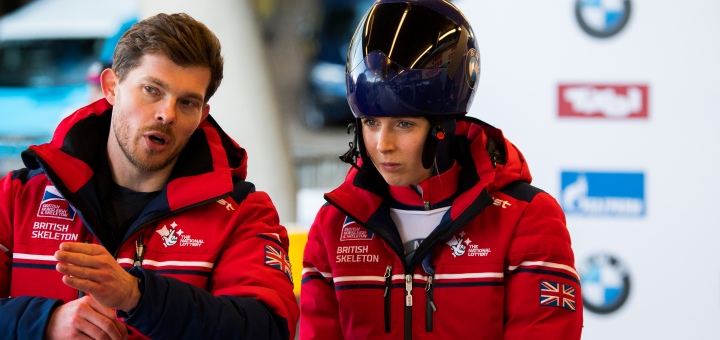 Madelaine Smith has her sights set on a season's best when the women's skeleton event at the World Championships gets underway in Germany tomorrow.
Smith is one of a trio of Brits going for Great Britain in the first two heats of the season showpiece in Altenberg as the team aim to end the year on a high.
Olympic bronze medallist Laura Deas and the Isle of Wight's Kim Murray join Smith on the start line at 8.30am GMT and all three are confident that the strong support team they have out on circuit will enable them to produce their best form on the big stage.
"I'm excited to see what can happen as we've got a big support team out with us. I'll trust in the process, learn everything I can and we'll see what happens, but I always go into races with high expectations," said Smith.
I had a couple of weeks back home training for the Worlds before going to Germany as I didn't race in the last World Cup event in Sigulda so I feel prepped and ready and fresh. I'm in a good position going in.
"It's been up and down for me so far this season: it's been a little stop start but I've had some really promising results on both the World Cup and ICC.
"I'd love to be in the top ten but that will be tough, especially with lots of strong German athletes on a German track. I'm know I'm capable of that, though. It's now a case of bringing it all together when it matters."
Maddy Smith has a World Cup PB of 8th
Smith made her World championship bow in Whistler last year and she insists that experience will stand her in good stead second time around.
The 25-year-old former swimmer and sprint hurdler says she now knows what to expect at a global champs and she hopes her consistency over the four-run format can help ensure she's in the mix for that top ten spot come Saturday morning.
"It's brilliant to have had experience of the World Championships last year because it isn't like any other race," added Smith.
"I'd done back-to-back races before but they're still separate races - this is a completely different ball game. This is consistency four times, not just twice. I think that's what we're strong on as a group, though: we might not have been winning medals week in, week out, but we are consistent and that should stand us in good stead.
The experience from last year has given me the confidence that I shouldn't expect anything new; I know I can trust in the process; and I know the team have got everything little thing planned, scheduled and sorted. There's nothing extra for me to worry about: I just need to focus on what I'm doing and I know everything else will fall into place.
"Making the team for the Worlds was one of the main goals this season. Last year was my first World Championships and it was more about gaining experience and learning from that. This year, it's more about trying to get a result. But it's also about getting that bank of experience as we build towards Beijing and the next Olympic Games. You don't get these four runs very often so the more practice the better."
The first two runs of the women's race take place at 8.30am GMT on Friday, with Runs 3 and 4 following 24 hours later.
The men's race, in which Brits Matt Weston, Marcus Wyatt and Craig Thompson are 12th, 13th and 18th respectively, concludes at 12pm tomorrow.
You can watch all the World Championship action via the International Bobsleigh & Skeleton Federation website and on their YouTube channel.
We'll provide updates via our own social media channels and we'll post a round up of the results once they've come in.