Smith & Wyatt lead the way in Whistler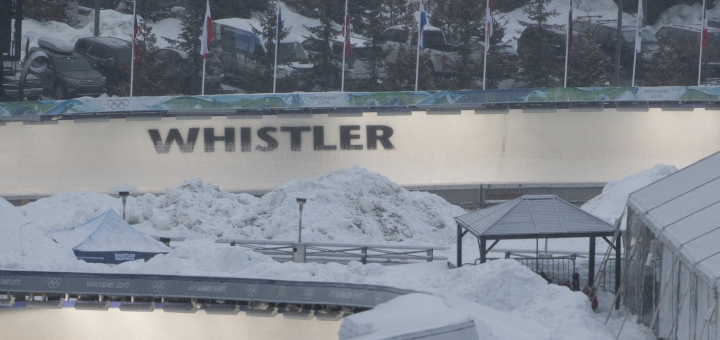 The first day of individual action at the Skeleton World Championships ended with Madelaine Smith and Marcus Wyatt leading the British Challenge in Whistler.
Smith reached the halfway mark of the women's four-run race in 13th, with Wyatt joint 14th in the men's event.
Ashleigh Pittaway sits 15th, Jerry Rice 21st and Jack Thomas 26th in the showpiece event of the season ahead of tomorrow's final two runs.
Olympic bronze medallist Laura Deas was forced to withdraw from the season finale earlier in the week after suffering a whiplash type injury in the Team Competition in the early hours of Monday morning GMT.
Smith clocked 54.63 seconds in her opening run to end it 15thout of 26 sleds before going 0.4 seconds quicker in Run 2 to jump up two spots in the standings.
Pittaway, who, like Smith, is competing at her first World Championships, is just five hundredths of a second behind her team-mate after times of 54.47 and 54.44 seconds respectively.
Germany holds all three medals spots in the women's event, with Tina Hermann 0.35 seconds ahead of Olympic silver medallist Jacqueline Loelling and 0.82 clear of Sophia Griebel.
Maddy Smith is 13th at the halfway stage in Canada
In the men's race, Wyatt clocked 52.86 and 52.89 in Runs 1 and 2 to sit 21 hundredths off the top ten on his World Championship debut.
Just 0.05 and 0.10 seconds separate the 27-year-old from the two athletes immediately above him so there's every chance Wyatt could move up the order in Runs 3 and 4 in what is his biggest competition to date.
Rice, who was tenth at the Winter Olympics 13 months ago, recorded times of 53.28 and 53.20 to sit just over four tenths of a second behind America's Kyle Brown, who occupies the last of the 20 spots that will secure a final run after tomorrow's third heat.
Thomas is five places and 0.78 seconds behind Rice after a 53.55 first run effort was followed by 53.71 second time around.
Reigning champion Martins Dukurs leads Olympic silver medallist Nikita Tregubov by 0.37 seconds, with the Latvian's brother, Tomass, occupying third position in Canada. If the younger Dukurs sibling does take gold tomorrow, it will be his sixth World Championship title since 2011.
Heats 3 and 4 of the men's race begin at 5pm GMT tomorrow (Friday), with the women's race following from 8.30.