Sliders step up in St Moritz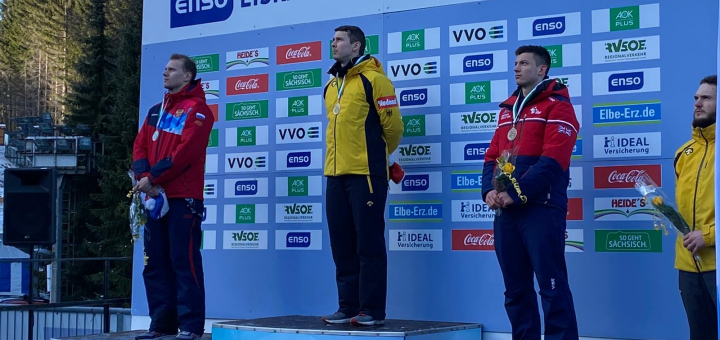 The British Skeleton team will welcome two new faces into the fold for Friday's latest World Cup race in St Moritz.
Laurence Bostock and Matt Weston are in their first year of competitive sliding but they now have the opportunity to experience the sport's top circuit out in Switzerland.
With Craig Thompson looking to build on last week's double medal success on the Intercontinental Cup circuit alongside Stefan Squire, and with Jerry Rice back home in the UK awaiting the arrival of his first child, Bostock and Weston will join British No1 Marcus Wyatt on the start line at the globe's only natural ice track.
Weston heads for his first taste of the top circuit in fine form, having won medals on each of his last two weekends of racing. The 23-year-old, who represented England at taekwondo before switching to skeleton, picked up a silver medal in Igls and a bronze in Altenberg on the Europa Cup circuit earlier this month.
Bostock has also been competing in EC races during December and January, having joined the programme as a 17-year-old in the summer of 2017. An all-round sportsman as a schoolboy, the 20-year-old from Sutton Coldfield beat Benji Fulker in a race off for the third World Cup spot this week and will now become the youngest ever male slider to represent GB in the top tier of competition.
While Wyatt will be keen to build on his superb fourth place finish in Austria a fortnight ago, Friday's race is all about building a bank of experience for Bostock and Weston as they target a place at the 2026 Olympic Winter Games in Italy.
"As developing athletes with an aspiration to medal at the 2026 Olympics in Milan, this is a great opportunity for Laurence and Matt," said Danny Holdcroft, Head of Talent and Innovation for the British Skeleton team.
Giving two junior athletes the chance to experience the premier sliding circuit as a one off so early in their careers is something we believe can really help their progress - both as athletes and as people.
"We won't be focusing on their results this week: what we want to see is how they learn from the experience and how it moulds their thinking moving forward. It's a chance for them to see first hand how the highest level of competition operates and to learn from the very best in the world. They want to be at that level themselves and racing in the World Cup will give them another insight into what's required to get there.
"This has the potential to be a key step in their own development but they will also be looking to pass on their learnings to the rest of their peer group by giving a presentation when they return to the UK. We work hard to show all our athletes just what it takes to reach the very top but there is no substitute for them seeing that for themselves." 
Laurence Bostock is his debut year of racing
In the women's race, Kim Murray returns to World Cup competition after shining on the ICC circuit last week.
Murray, who won ICC gold in Lake Placid a week after her eighth-place effort on the World Cup in Igls, lines up alongside Olympic bronze medallist Laura Deas and Madelaine Smith for the penultimate race of the World Cup season.
Elsewhere, Amelia Coltman steps up to the ICC circuit having just become the first Brit to be crowned EC Champion in her first year of competition.
Coltman is currently in PyeongChang - the venue for the last Winter Olympics - with Thompson, Squire and 2016 Youth Olympic gold medal winner Ashleigh Pittaway, for back-to-back races in the early hours of Friday and Saturday morning.
"Amelia has really impressed on the EC circuit this season and she has earned the right to make the step up to ICC this week," added Holdcroft.
Amelia has been in or around the medals every time she has raced and has shown that she has the potential to progress in this sport.
"Now she gets a chance to experience the next level of competition, where she will be up against more experienced sliders at a venue that is new to her.
"Like with Matt and Laurence, there is no pressure on her to produce another medal winning performance - the focus is on her continuing her development and embracing a new challenge."
Race Schedule
All times are GMT
Fri 31 Jan
ICC Men's & Women's Skeleton 1am 
WC Men's Skeleton 8.30am
WC Women's Skeleton 12pm
Sat 1 Feb
ICC Men's & Women's Skeleton 1am