Skeleton celebrate overall ICC successes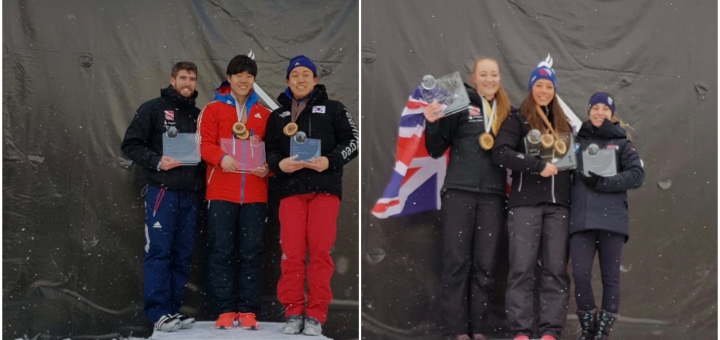 British Skeleton are celebrating a brace of overall Intercontinental Cup (ICC) silver medals after Ashleigh Pittaway and Craig Thompson shone on the sport's second-highest circuit.
Pittaway and Thompson both medalled on the final stop of the ICC season in Lake Placid at the weekend, meaning only one of the 35 and 41 other sliders who competed on the circuit finished above them in the standings.
A gold and sliver for Pittaway in Placid provided a near perfect way to bring the ICC season to a close for the 18-year-old as she came within a whisker of pipping the far more experienced Anna Fernstaedt to the title.
Fernstaedt has been sliding in IBSF competitions since 2013 and was a regular on the World Cup circuit for Germany last season before switching her allegiance to the Czech Republic but Pittaway would have taken the crown had she won the final race and her rival finished outside the top nine.
Pittaway, who won Youth Olympic Gold for Great Britain in 2016, finished on 762 points, 38 behind Fernstaedt but 88 ahead of third placed Megan Henry of the United States.
She was never outside the top seven in any of her eight races from mid-November onwards and she achieved something the ultra consistent Fernstaedt couldn't throughout the season in taking a gold medal in the penultimate race of the campaign.
Ashleigh Pittaway won gold and silver in Lake Placid
Thompson medalled on no fewer than three occasions in his eight ICC races and was in the top six in three more of those races.
The 26-year-old former footballer was never outside the top eight after winning the season opener in Igls on November 15th. He won bronze in Park City earlier this month and finished with the same colour medal in Race 8 in Placid on Saturday.
South Korea's Seunggi Jung took the overall men's title after he finished now lower than fourth throughout the season.
"We're all very pleased for Ashleigh and Craig," said British Skeleton's Interim Performance Director, Natalie Dunman.
"The ICC circuit is a demanding calendar, with back-to-back races in both Europe and North America, and it's great to see them rewarded for all their hard work.
Winning a race or medaling in one is obviously a major achievement but all of our athletes are building towards the next Winter Olympics in 2022 and consistency is a massive part of that process. Getting an overall medal across eight races shows that both Ashleigh and Craig have been consistent throughout the whole season - that's a big step for them both on that journey to Beijing. 
"We should also say 'congratulations' to the whole ICC coaching team, led by James Howard. They've put a huge amount of work in - plus a lot of travel (!) - to give the athletes the best chance to succeed and it's further proof that we've got a strong team behind the team here.
"It's also wider recognition that we're on the right track as a programme. A lot of people will know that the team won three medals at the 2018 Olympics but what people sometimes don't see is the success on the other circuits.
"The squad won dozens and dozens of medals over the previous Olympic quad and that's a key part of getting things right for when it matters most. We've started well again this time and Ashleigh and Craig have been a big part of that."