Season ends with 4th for Yarnold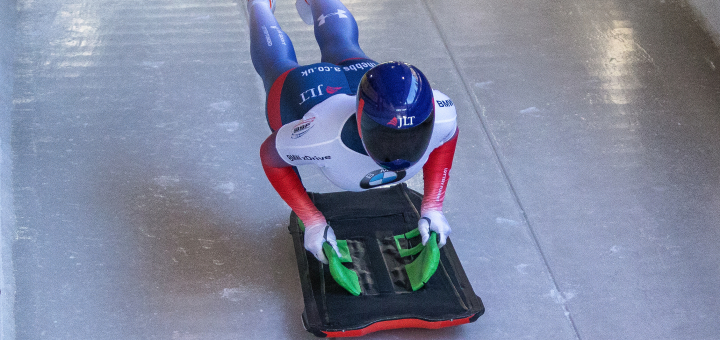 The World Cup Skeleton season drew to a close on Friday morning as Lizzy Yarnold came within a whisker of another medal for Great Britain.
Three weeks after winning World Championship bronze in Konigssee, Yarnold finished fourth in Pyeongchang, just four hundredths of a second from third and nine hundredths from silver.
Yarnold produced the joint second quickest time in Run 2, having sat seventh at halfway, to give her rivals another timely reminder that she will be in the running to retain her Olympic title when they return to the same South Korean track in February of next year.
Fellow Brit Laura Deas placed joint ninth after clocking the sixth best time in her second run as Germany's newly crowned World Champion and World No1, Jacqueline Loelling, took gold ahead of Russia's Elena Nikitina and Kimberley Bos of the Netherlands.
That result saw Deas finish sixth in the overall World Cup standings - an improvement of one place from last season - with Yarnold ninth after sitting out the penultimate race in Igls last month.
"I was so close to a medal which would have completed the season perfectly! But 4th is a position that keeps you hungry so I'll take the positives from that," said Yarnold.
"The track is challenging and I've had some hard days over the past few weeks trying lines that didn't work - there's been a lot of trial and error.
"I feel like I've worked out a few of the quirks of the track from this first trip so will come back in October (for the next international training week) to build on the progress made and discover more, I'm sure.
"Now that the season is coming to an end, I just want to thank the whole team for their unending commitment to performance. Since our selection race in October we've become more like family than ever which makes us all stronger and, ultimately, perform better. We are all now focussed on the race which really counts in 335 days' time!"
In the men's race, Dom Parsons was 13th and Jack Thomas 20th for GB.
Parsons sat 16th at the halfway mark but jumped three places after clocking an improved time of 51.17 seconds in Run 2 - more than half a second quicker than his first effort and the seventh fastest of the last heat.
Home favourite Sungbin Yun led after the first run but a track record for World Champion Martins Dukurs saw the Latvian take gold by just one hundredth of a second in a thrilling finish to the season. That victory also sealed an eighth successive overall World Cup crown for Dukurs, with his brother Tomass winning bronze behind Yun.
Parsons placed 10th in the overall standings, with Thomas 18th in his debut World Cup season.
World Cup (Pyeongchang, South Korea). Women's Skeleton: 1 J Loelling (GER) 1m 45.68s (52.93s & 52.75); 2 E Nikitina (RUS) 1-45.98 (53.18 & 52.80); 3 K Bos (NED) 1-46.03 (53.15 & 52.88); 4 L Yarnold (GB) 1-46.07 (53.27 & 52.80); =9 L Deas (GB) 1-46.56 (53.54 & 53.02)
Final World Cup standings: 1 J Loelling (GER) 1591pts; 2 T Hermann (GER) 1493; 3 M Rahneva (CAN) 1475; 6 L Deas (GB) 1240; 9 L Yarnold (GB) 1162
World Cup (Pyeongchang, South Korea). Men's Skeleton: 1 M Dukurs (LAT) 1m 41.51s (50.87 & 50.64); 2 S Yun (KOR) 1-41.52 (50.69 & 50.83); 3 T Dukurs (LAT) 1-42.16 (51.20 & 50.96); 13 D Parsons (GB) 1-42.85 (51.67 & 51.17); 20 J Thomas (GB) 1-43.56 (51.86 & 51.70)
Final World Cup standings: 1 M Dukurs (LAT) 1662pts; 2 S Yun (KOR) 1623; 3 A Tretiakov (RUS) 1454; 10 D Parsons (GB) 1144; 18 J Thomas (GB) 604