Rice ready to kick on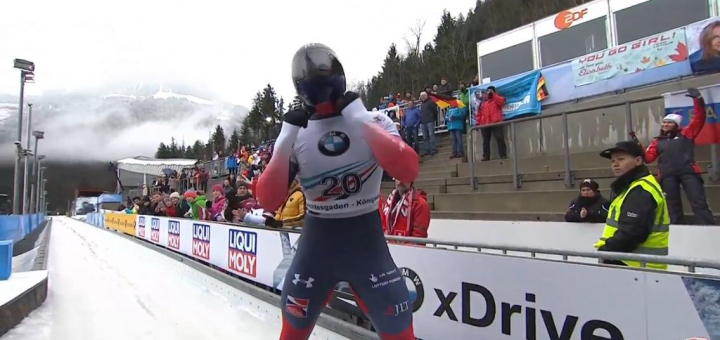 Jerry Rice is ready to kick on when the men's skeleton action returns on Sunday after a satisfying start to his World Championship debut.
Rice, who won the Intercontinental Cup (ICC) competition last month but has only competed on the World Cup circuit once so far, sits 18th in a 44-strong field at the halfway mark of the four-run race in Konigssee.
The 26-year-old former rugby player and Cresta rider clocked times of 52.52 and 52.33 seconds on the opening day of his maiden World Championships for a combined time of 1 minute 44.85 seconds.
Just four hundredths of a second separate Rice from the four sliders immediately ahead of him, while there is an almost half a second gap back to 20th place - the position that would would secure him a spot in Run 4.
"I made a couple of mistakes here and there so I did want better, but it could also have been worse!" said Rice.
"It's a tough track. It punishes your mistakes. You've got to be clean if you want to be anywhere near the top and a small mistake will really set you back.
I'm pretty pleased and we'll see if I can pick it up again on Sunday.
"There's definitely a couple of places for me to try and nab there and I've definitely separated myself a little bit from those behind me so it's not a bad start."
Jerry Rice made his World Championship debut on Friday
Rice had plenty of vocal support at the finish line in Germany, some of which was unexpected as a trio of friends flew out to lend their backing.
That support, together with a determination to enjoy every minute of the experience but to slide as if it was just another ICC race, has left him in high spirits ahead of tomorrow's rest day.
"My mates came and surprised me, which was really nice. My mum and my girlfriend are here and I've got three of my mates who've come out without even telling me. With that kind of support, I'm feeling really comfortable," added Rice.
"I just try and do exactly the same thing wherever I race. On the ICC circuit, these sort of runs would probably put me in the top six but at this level you've got the big boys. I'm chasing them but it's good to put myself up against them and I love the challenge.
"The World Championships is an awesome experience. All I wanted to do this season was qualify for the World Champs and I've done that. I'm loving it so far."
Rice races again from 7.30am GMT on Sunday and you can watch him live via the BBC Sport website or red button or on the IBSF website or YouTube channel.