Yarnold in the medal mix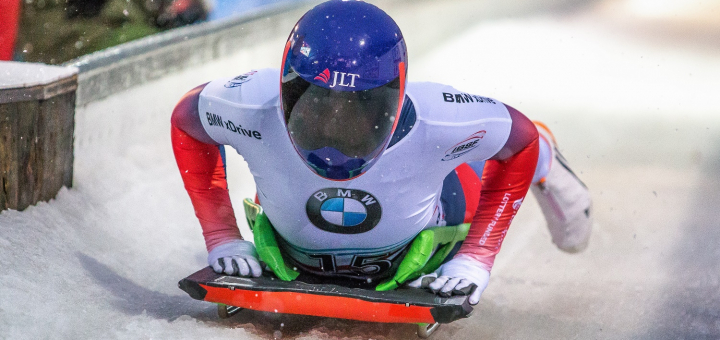 Lizzy Yarnold is within touching distance of a medal after the opening day of the women's skeleton at the World Championships in Konigssee.
Yarnold sits fourth after Friday's action and is just two hundredths of a second away from a bronze medal after a snow affected first half of the four-run race.
Adverse weather conditions saw the second run cancelled with 21 of the 31 sliders having already posted a time. Those times will not count towards the final result, with the competition now reduced to three runs. Runs 3 and 4 will take place as scheduled from 7.30am GMT on Saturday.
Yarnold clocked 52.29 seconds in Run 1, 0.27 seconds behind the current World No1, Jacqueline Loelling, and 0.21 behind another home slider in Germany's reigning World Champion, Tina Hermann. Canada's Elizabeth Vathje, who has already won twice on the World Cup circuit this season, occupies third spot.
Fellow Brit Laura Deas was in second place, just 10 hundredths of a second behind the leader after her second run, but the cancellation means she slips back to 13th having clocked 52.76 seconds first time round.
Donna Creighton, who was the next athlete to slide before Run 2 was cancelled, is 22nd after a time of 53.80 seconds.
"A run being cancelled is something that's happened this year already. Now I'm resetting in fourth place, two hundredths off a bronze medal and 27 hundredths off first place," said Yarnold, who won the world title in Winterberg in 2015.
"Those will be my focus points for tonight: knowing the numbers but then looking at how I can make the difference.
"I certainly don't look back. I never look behind me. I'm only looking at first, second and third. Two to three tenths across two runs is possible to get back and that's my focus.
"I made some mistakes in Kreisel in the second run so there are lots of things I can improve on. And that's how I always look at it. This is a short track so ,whatever I do, I have to do well.
"Going into Kreisel, I've been trying out the German technique, which I've never done before, and I've been really firm with myself in having to push on and progress my development as a slider.
"I'll sleep well tonight but, before that happens, I've got to re-prep my sled, review video and have some discussions with my coach Eric Bernotas."
The final two runs of the women's skeleton are live on the BBC red button and on the BBC Sport website, as well as via the IBSF website and YouTube channel.