Rice ready for unique challenge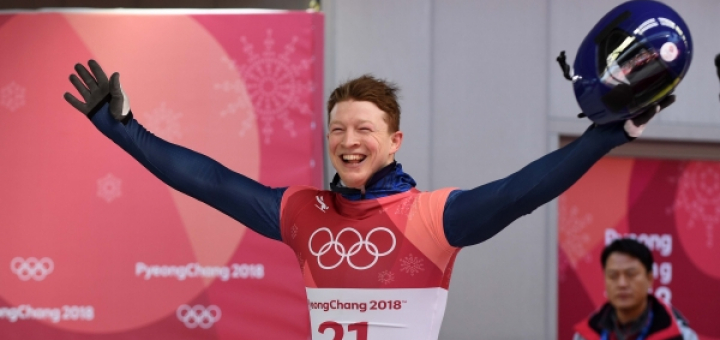 Today's World Championships may be at the world's fastest track but that isn't stopping British Skeleton's Jerry Rice from enjoying the experience.
Whistler has long been renowned as one of the most daunting venues on the sliding circuit, with a skeleton track record speed of over 90mph combined with forces of 5G making it a truly unique challenge.
The opening weekend of bobsleigh racing showed just how difficult the 16-corner, 1450m venue can be to master yet Rice believes it's a fantastic place to host the biggest event of the sliding calendar.
"The weather is beautiful, the track is fast and it's good to be here - I'm enjoying the experience so far," said Rice, who is competing at his second World Championships, having debuted in Konigssee in 2017. 
It's a great track to have a World Champs at. It's one of the more modern tracks so they run things really well here and there's a real buzz about it all.
"It's a difficult track, too, and that's another reason why it's such a good place to have the World Champs. It forces you to be at your best and it tests you both mentally and physically.
"We've had a good first few of days training: the ice is very quick so it's been good to get on the track to get things going and to experience that. It was awesome to watch the guys in the team race the other day. It's a big disappointment that Laura (Deas) won't be racing but there's still a really good atmosphere and everyone is happy to be here."
Jerry Rice knows he'll need to be fully focused to tame a tough track
Rice knows that consistency will be key when it comes to attempting to match his top ten finish at his first Olympics last February, especially when a single mistake in Whistler could derail his hopes altogether.
All races bar the Olympics and World Champs take place over one day and two heats but Rice has previously proved that he has the mental and physical attributes to repeat the feat 24 hours later, and that's the plan today and Friday. 
The 28-year-old former rugby player finished tenth in PyeongChang in just his second international four-heat race since joining the British Skeleton programme in 2012 and a similar result in Canada would be another significant statement.
"It's a real challenge to be consistent over four runs. That's what we're aiming for and that's what training's for - to get that confidence to then be able to be consistent come the race days," added Rice.
Whistler is unlike any other track because it's so fast and frantic and if you make one mistake you can find yourself in a pretty nasty position pretty quickly. 
"You have to have your head screwed on pretty tight just to make it down this track. It's unlike somewhere such as Igls, where it's easy to get down but hard to get down fast. Sometimes at Whistler it's a matter of getting down and, if you get down, you will be fast.
"We've all been competitive in training so we're feeling pretty good but it's important to get some good recovery in. I've got a lot of things to work on but it's a good challenge and I'm loving it so far."