Preview: Murray begins busy weekend with bronze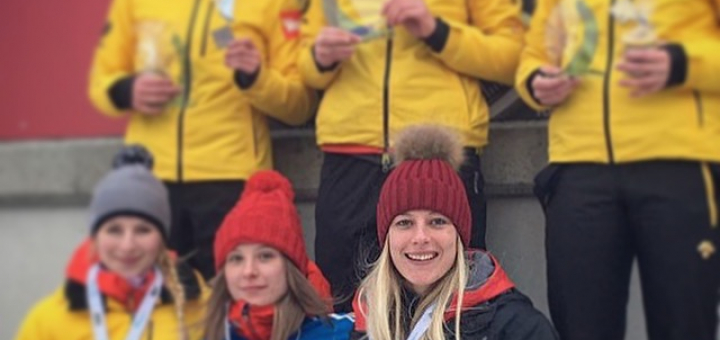 The weekend's sliding action kicked off in style on Thursday as Kim Murray won bronze for Great Britain in the Europa Cup (EC) women's skeleton in Altenberg.
Murray, who is in her first full year of international competition, followed up last weeks' fourth-place finish in St Moritz with a first medal in the penultimate EC race of the season.
The 28-year-old former long jumper had never slid on the Altenberg track before but was only beaten by two German athletes in a 24-strong field.
"Kim winning a bronze medal is a really positive result for her and the team," said Danny Holdcroft, Head of Performance at GB Skeleton.
"These athletes have minimal experience in Altenberg having only had a handful of training runs since arriving from Switzerland a few days ago.
Altenberg is known as one of the toughest tracks in the world so for Kim to medal behind two home sliders, and only been 0.16 seconds from silver, is a superb effort.
"It builds on her result last week and producing that kind of consistency is a big part of their current development as international athletes."
Team-mate Brogan Crowley finished 11th in the same race, with Tim Hull 16th in a 33-strong men's competition.
The action continues throughout today, Friday, Saturday and Sunday, with GB Skeleton athletes currently competing in the North American Cup (NAC) competition in Lake Placid where Donna Creighton, Maddy Smith, Kenny Howard and Jerry Rice are all looking to build on recent podium places.
The World Cup takes centre stage tomorrow as Dom Parsons and Jack Thomas go for GB in the men's skeleton at 8.30am GMT in St Moritz before Olympic Champion Lizzy Yarnold and Laura Deas compete in the women's skeleton at 12.30pm. Further NAC action then follows later in the afternoon.
Bobsleigh becomes the focus for the BBSA on Saturday as the women's and 2-man teams take to the ice in St Moritz at 8am and 11.30am respectively.
Mica McNeill slides with last weekend's debutant Montell Douglas, with the pair looking to push on from their 10th place finish at the European Championships in Winterberg.
GB will field a brace of 2-man crews as Lamin Deen links up with Ben Simons and Bruce Tasker slides with Britain's fastest man, Joel Fearon. The latter pair achieved Britain's best World Championship 2-man result for 50 years last season when they finished fourth in Igls but this is the first time they have teamed up this term.
The weekend finishes with the World Cup 4-man competition on Sunday from 9.30am, with GB again fielding two crews. Deen pilots a sled that features Mark Lewis-Francis, Fearon and Simons, with Olly Biddulph pushed by Andrew Matthews, Greg Cackett and either Sam Blanchet or Tremayne Gilling.
"St Moritz is always an exciting stop on the World Cup tour, not just because of the history or the ambiance of the place but also because of the competitive racing it always produces," said GB Bobsleigh's Performance Director, Gary Anderson.
A longer track than in recent weeks will test our pilots and we're looking forward to racing. It's been a while since we were last on the podium in St Moritz and we are keen to put that right this weekend.
"We are still looking at honing our crews to ensure we have the right athletes in the right place at the right time, especially as next month's World Championships in Konigssee are now very much on the horizon."
WORLD CUP RACE 5: ST MORITZ, SWITZERLAND
*All times are GMT
Fri 20 Jan
Men's Skeleton 8.30am
Women's Skeleton 12pm
Sat 21 Jan
Women's Bobsleigh 8am
Men's 2-man Bobsleigh 11.30am
Sun 22 Jan
Men's 4-man Bobsleigh 9.30am
The action will be live on the International Bobsleigh & Skeleton Federation website and via their YouTube channel
You can also receive regular updates via our social media channels: @the_bbsa on Twitter and BritishBobsleighandSkeleton on Facebook