Parsons wins historic Olympic medal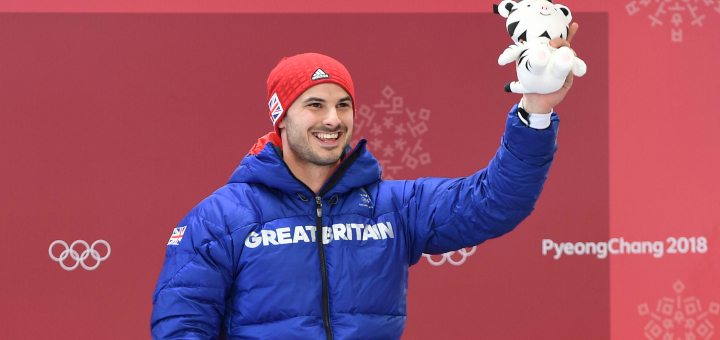 Dom Parsons won Great Britain's first Olympic Men's Skeleton medal since 1948 as he bagged bronze in PyeongChang in the early hours of Saturday morning.
Parsons produced an outstanding display to secure Team GB's maiden medal of the Games, 70 years after John Crammond achieved the same third-placed feat in St Moritz.
The 30-year-old, who was also third overnight following the first two runs, finished just two hundredths of a second behind silver medalist Nikita Tregubov as home favourite Sungbin Yun sealed gold for South Korea.
Parsons looked to have agonisingly missed out on a medal when he fell just behind Tregubov on his final run but a surprise error from multiple World Champion Martins Dukurs saw the Latvian slip back from second to fourth, leaving Parsons to celebrate a fifth successive Olympic medal for the British Skeleton programme.
"It's just incredible. I still can't process what's happened - it still doesn't seem real to me!" said Parsons.
That was a bit of a rollercoaster and it hasn't really sunk in yet.
"I was devastated after my final run: I thought I'd binned it totally after I made a couple of mistakes that dropped me behind Nikita and out of the medals.
"But Martins (Dukurs) then made some mistakes and he's the last person I'd expect that from, he's been dominant for so many years. It's just those little hundredths making a difference, it's so close at the top. I'm just grateful that I got lucky. I'm sorry for Martins that he missed out on a medal here but I'm delighted it worked out for me.
"I was standing next to Nikita when Martins came down and he doesn't speak much English. We turned to each other as if to say 'Did that really just happen?' We had a slightly confusing, broken English conversation and I still can't believe it myself."
Dom Parsons won GB's third Men's Skeleton medal since 1924 (c) Garry Bowden
Parsons' early season results had not made him a favourite for a medal in PyeongChang but the PHD student at the University of Bath saved the best performance of his 10-year career for the biggest stage of all.
A few weeks after finishing a fine fourth in the World Cup in St Moritz, the Londoner shone in official Olympic training in South Korea despite suffering from an abductor problem and he took that speed into the race as he recorded the third fastest time in three of the four runs.
"I'm delighted I managed to click with the track," added Parsons, who was 10th at the last Winter Olympics in Sochi in 2014.
"It's an amazing feeling knowing that four years of work has gone into this. Sometimes it seemed like it wasn't that close in coming and it's just amazing that it's all come together this time.
In the last Olympic season I did it the wrong way around: I got a podium in the first race and my results declined. This year it's been the other way around: I decided to start with a terrible result and finish on a high!
"I'll enjoy myself now for the rest of the Games but I'll be watching my team-mates and supporting them. Hopefully, we'll have a few more medals for Team GB to celebrate."
Compatriot Jerry Rice also celebrated a top 10 finish on his Olympic debut as he placed 10th in a time of 3 minutes 24.24 seconds, just over two seconds behind Parsons.
Rice, who won the Intercontinental Cup crown last season, sealed his best-ever top-level result having sat 12th overnight and after his third run.
The 27-year-old moved above both Matt Antoine of the United States and Rhys Thornbury of New Zealand in the final lauf to cap a wonderful morning's work for GB Skeleton Performance Director Andi Schmid and his team.
Jerry Rice made it two Brits in the top 10
"I wanted a top 12 and I'm over the moon to be top 10," said Rice. "I put down four solid runs and, in the end, consistency always wins out in a four-run race.
"I struggled in training if I'm honest and I turned up on race day and I knew I had a little bit of work to do. I managed to click with the track at just the right time.
Dom winning a medal is just amazing. He made us all nervous right at the end there but he deserves it. He works hard and he was the man who always said that he had the potential to do something like this - now he's done it.
"Dom finished tenth in Sochi four years ago and I see myself on that same trajectory. It definitely gives me an extra drive for the Beijing Olympics in 2022."
The Skeleton action continues later today, with Laura Deas and Lizzy Yarnold going for GB from 11.20am GMT.