No standing still for Skeleton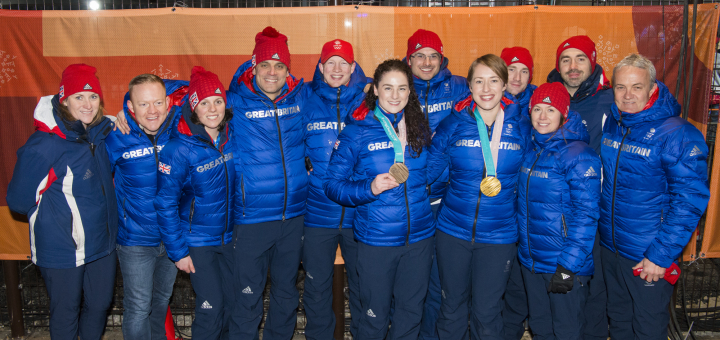 'If you're not moving forward, you're just standing still.' It's a simple mantra driving British Skeleton onwards and upwards at a time when they have already planted the Union Flag firmly at the top of the proverbial mountain.
Having won an historic hat-trick of medals at the 2018 Olympic Winter Games, Performance Director Andi Schmid and his team could have been forgiven for revelling in their success. No one would have pointed the finger if they took their foot off the gas for a while and surely no one would have denied them an extended party on the back of three medals and a personal best from the four athletes who flew to PyeongChang in February.
And with fully eight months between the Games and their return to the ice, it would certainly have been easy to sit back, enjoy the moment and take the plaudits on the back of becoming the most successful nation in the history of Olympic Skeleton. But that's not the British Skeleton way. It never has been and never will.
"Just because you have success and win more medals than people expected, it doesn't mean you don't need to evaluate how that happened. Once you have tasted success, you want more of it. To get it, you can never stand still," said Schmid.
"We pride ourselves on being self critical and openminded and we see self assessment as a good thing. There are so many areas that we had to evaluate and assess after getting back from South Korea.
Winning medals is a complex conundrum and, if we ignore one area or neglect another, we run the risk of getting overtaken by our rivals.
"It was quite obvious during the season and at the Games that we were a well-organised and tight-knit group and other nations will have seen that and may well look at how they can catch us up here. It's the same for equipment: everyone is always finding new developments so we have to keep driving this forward so that we stay ahead of the game.
"Research and innovation will be key to the future, but so will talent development. We need to keep developing athletes to get them to Olympic level so that we have more potential athletes at the next Games and a chance to do what we did in PyeongChang once again.
"The gist of the message for the next four years is not to reinvent the wheel but to still recognise all the areas where we can improve. We want to take things to the next level in each area of our performance. Our competitors will not sleep, and neither should we."
More winter success hasn't led to a summer of complacency 
That process of improvement began a month-and-a-half after the team returned from the Games at the back end of February, with the entire squad, plus the full compliment of coaches and support staff, meeting at the University of Bath for a two-week review camp.
No stone was left unturned and everyone was encouraged to contribute on an equal footing. Whether you entered the camp as the Olympic Champion or a novice slider yet to compete for the country, your opinion was valid and Schmid co wanted to hear it.
"It was crucial that everyone had a chance to have their say. The review is a key part of a culture where no one should be in the dark. It's vital to our success," added Schmid.
"The April camp was about looking back at last season and seeing what worked well and what didn't. This was even more important than in other years because it came immediately after the Olympics. We looked back at the cycle as a whole rather than just the winter season. It really was critical for the programme.
We identified strengths, weaknesses, opportunities and threats, all of which we need to be aware of if we want to take the programme to the next level.
"We identified areas we need to improve on, both as a programme and as individuals. We had some great conversations with all our athletes. They enjoyed the process and they spoke up to tell us their opinions.
"We all talked very openly and there was no shying away from any areas that we need to improve on or things that the athletes or staff want the programme to do differently. If there were criticisms, they needed to be aired. But criticisms and feedback must always be combined with solutions: rather than just saying that we need to change, we wanted the team to think about how we want to change and what that can actually look like. We wanted everyone to feel comfortable doing that so we can make improvements. It means that we can pick up on things that we might otherwise miss when we work in isolation. That's a big part of our culture."
That openness and transparency didn't mean that those conversations were focussed solely what didn't go quite to plan prior to PyeongChang, though. Schmid knows that recognising what makes you successful is just as important as highlighting what doesn't.
"We did take our time to recognise what happened at the Olympics - we didn't just dismiss it and move on. It was a phenomenal achievement and it really was something unique. It was a historic success and one that we're all really proud of.
Just because we reviewed the negatives and looked at the things we need to improve on, it didn't mean we ignored the positives. We looked at what we did well and at what routines and processes worked for us as individuals and as a group.
"The success we've had over the last few cycles means that there is a legacy here for everybody who comes into the programme and it's obviously important that they take on board all of that and use it as a platform to build on. Part of moving forward is recognising what you did well so that you can repeat it and build on it."
Attention to detail was key to Dom Parsons' success
The next step to building that platform came with a UK Sport review and confirmation of the programme's Beijing 2022 Olympic strategy, followed by a second team camp back in Bath in July.
The focus switched to looking at what lies ahead rather than what has gone before, with Schmid and his coaching team now all set for a new season and a new cycle this October.
"After the April camp, we had a cycle review with UK Sport where we looked back at the Olympics and then forward to what we want to achieve over the next four years. We have to be really clear on yearly goal setting, both for the programme and individual athletes. We all know what have to achieve over the summer and winter and the athletes have clear development plans.
The camp in July was about starting to put what we learnt in April into practice, building it into the action plan for the summer and this winter and everyone buying into it.
"Yes, the system and the structure need to be right, but so do the people. You can have a great idea but it's not worth anything without the right people getting really behind it. We had everyone in Bath again and we effectively kick-started the journey to the Beijing Olympics in 2022.
"It was a busy camp, with lots of information for everyone to take on board, but it was an exciting time. The beginning of a new journey is always special as it's a fresh start for everyone. There was definitely an extra buzz about things and, as coaches, we feel like the squad are in a good place to move forward.
"Training is now in full swing, as is all the preparation off the ice, and I'm convinced that the next cycle can be very successful. There is a very strong unit in place to drive the team forward and there's a real desire to keep on getting better. It will be very difficult, of course, but, as long as that attitude is at the heart of everything we do, the team stand a good chance of tasting more success."