New faces as five go for GB in EC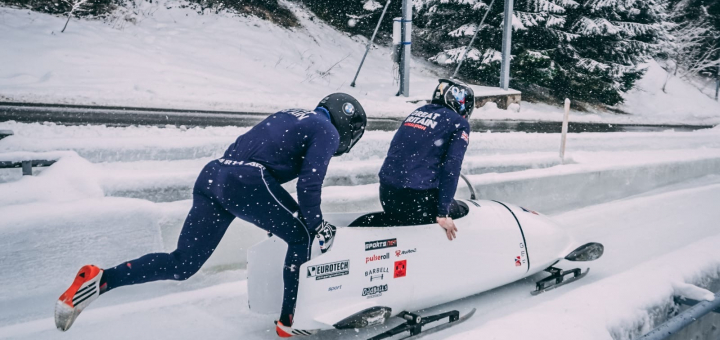 Great Britain have five bobsleigh teams competing on the Europa Cup circuit this week as the competition concludes in Igls today, tomorrow and Saturday.
Having sat out the previous race in Sigulda a fortnight ago, British EC teams will be racing for the first time this calendar year as the circuit had been on a month-long break prior to the Latvian leg of the tour.
Three men's 2-man crews and two women's teams will take to the start line in Austria, with large fields expected in both events.
Axel Brown returns from competing on the North American Cup tour and Adam Baird makes his third EC appearance after racing in Winterberg and Konigssee in December.
Adam Baird made his international debut in December
Jo Ellett spent the first part of the season competing in the monobob event in Lillehammer and Konigssee but both Ashley Morris and Sarah Smith will be making their international debuts.
Baird, Ellett, Morris and Smith are all serving members of the military, while Brown is in his first season as a pilot having previously represented his country as a brakeman on the World Cup circuit.
Brown will be pushed by Ryan Letts, who has been part of Lamin Deen's World Cup crew this season, with Baird linking up with Jase Joseph and Morris joined by Tommy Waite for the 2-man race this afternoon.
Smith teams up with Issy Burke who, like Ellett, competed in the monobob event earlier this season, and Mel Haslam will be the brakewoman for Ellett on Friday morning.
Sarah Smith and Issy Burke team up in the women's race
Race Schedule
All times are GMT
Thurs 30 Jan
EC 2-man Bobsleigh 12.30pm
Fri 31 Jan
EC 4-man Bobsleigh 9.30am (no GB sleds) 
Women's Bobsleigh 9.30am
Sat 1 Feb
EC 4-man Bobsleigh 8am (no GB sleds)