Montell & Mica making solid steps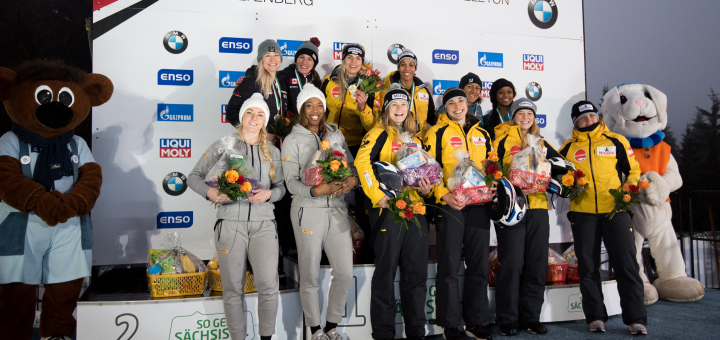 The British Bobsleigh Women's team are aiming to build on last week's personal best performance when they go in search of a medal at Saturday's European Championships in Konigssee.
Mica McNeill and Montell Douglas finished fourth in last week's World Cup race in Altenberg - their best top-level result yet and the country's top female result for a decade.
The pair led the field at the halfway mark for the first time last Saturday before late drama still saw them beat their previous highest-placing of equal fifth from November 2017. McNeill was hit by a cup at the start of the second run and, when the team were discussing that particular issue, it became apparent that the Brits had been given the wrong time after initially finishing sixth in the standings.
They were rightfully upgraded to fourth, leaving them just four hundredths of a second shy of a first-ever World Cup medal. And, while that moment was 'bittersweet' for both McNeill and Douglas, they head to Konigssee knowing their hard work is paying off.
"The confidence is no different after last week because we already believed we could compete with the very best and are doing ourselves justice," said Douglas, who was a summer Olympian in Beijing in 2008 and travelled to the Winter Games with Team GB 11 months ago.
"There are of course still things that we can improve on and we do not take those things for granted. We're constantly looking at where improvements are to be made, so it's a work in progress. We're far from the finished product, so that's super exciting.
"Konigssee has been throwing some preparation curve balls for everyone this week but, as always, execution is the priority and we know the results will come."
Montell and Mica produced their best result yet last weekend
This weekend's bobsleigh races are scheduled to go ahead despite the fact that Friday's men's and women's skeleton competitions were cancelled due to heavy snowfall in the surrounding areas.
The races form the fourth of the eight World Cup competitions this season but they also double as the European Championships. The results for the continental competition will be calculated once all non-European sleds have been removed from the final standings.
McNeill and Mica Moore were fourth at last season's European Champs in Igls, Austria, with the country's last Euro medal coming via John Jackson, Stu Benson, Bruce Tasker and Joel Fearon in the 4-man event in January 2014.
Brad Hall and Nick Gleeson will compete in the 2-man event shortly after the women's race, with Hall, Alan Toward, Gleeson and Ben Simons going for GB in the 4-man on Sunday morning.
Hall piloted his 2-man sled to 15th in last week's World Cup race and then finished 13th in the 4-man less than 24 hours later. The 2-man race saw huge positives for Hall and Gleeson in terms of the start as they clocked start times in the top three in both runs in Altenberg.
You can watch all the World Cup action via the International Bobsleigh & Skeleton Federation website and on their YouTube channel.
Saturday, January 12th @ 12.30pm GMT
Women's Bobsleigh: Mica McNeill & Montell Douglas
Saturday, January 12th @ 3.30pm GMT
2-man Bobsleigh: Brad Hall & Nick Gleeson
Sunday, January 13th @ 12.30pm GMT
4-man Bobsleigh: Brad Hall, Alan Toward, Nick Gleeson & Ben Simons