Mica & Brad aim to kick on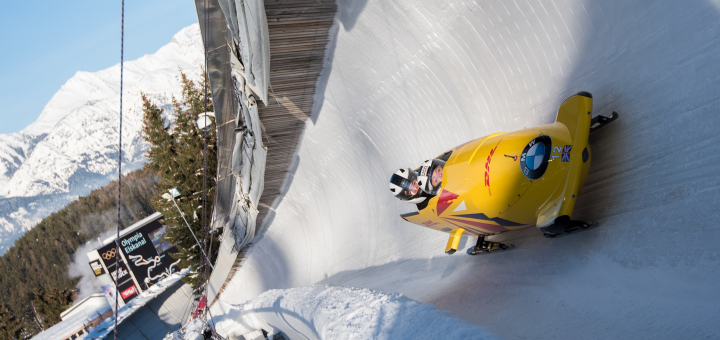 Brad Hall and Mica McNeill are aiming to kick on from Konigssee when the Bobsleigh World Cup circuit stops in Igls this weekend.
McNeill arrives in Austria on the back of sixth spot last week and a personal best fourth the week before, while Hall heads to Innsbruck fresh from a first-ever top 10 finish in the 2-man event.
And while the 4-man result in Germany wasn't what Hall and his team were looking for, impressive start times in both disciplines mean Performance Director Lee Johnston is still in positive mood as they all travel to a track on which the British team have plenty of past experience.
"Mica is producing some really consistent performances this season and Brad showed his potential to compete with the best in both formats," said Johnston.
We've all talked about building towards the World Championships in Whistler and there's no doubt that Mica, Montell (Douglas) and Aleasha (Kiddle) are doing just that. They are in the mix in most races and they know they can compete every single week.
"Mica won Youth Olympic silver here in Igls in 2012 and she was third in the World Junior Championships the same year. It'll be a tough race as Igls is known as a starter's track but she is driving very, very well and I'm sure she'll do the same on Saturday.
"Brad's starts in the last couple of races have been outstanding, particularly in the 2-man. That's given us real optimism that he's on the right track as well.
Getting a PB on a technical track like Konigssee last week was a great result and it's reminded everyone outside the squad that Brad is a really talented pilot. If he and Nick (Gleeson) can reproduce their recent start times then there's no reason why he can't finish top 10 again.
"There's no getting away from the fact that the 4-man results haven't been as good as we'd have liked recently but I don't think they're far off clicking. When they do, we all know what they're capable of."
Nick Gleeson & Brad Hall recorded a 2-man PB in Konigssee
Hall, who is looking to build on his equal ninth placing in Konigssee, has the added boost of driving Benny Maier's 2-man sled for the fifth race of the World Cup season as the Austrian sits this one out.
With technology in the sport moving on rapidly, the 27-year-old has been driving a 2-man sled that has struggled to keep pace with the best the world has to offer. And, with British Bobsleigh's transitional funding from UK Sport for this season fully focussed on the women's team and Hall's 4-man crew, the 2018 Olympian has now followed McNeill's lead from last season to set up a crowd funding campaign to rent a top 2-man sled for the rest of the campaign.
"Bobsleigh is a really technical sport and there's no doubt that the sled plays a big part in the package," added Johnston, who was also a 2-man and 4-man pilot in his two decades as an athlete.
"Our funding is spent on Mica's team and Brad's 4-man crew so we aren't able to invest in developing or renting a more advanced 2-man sled for Brad. That means he needs to raise the funds himself and that's exactly what he's trying to do. The 2-man sled Brad has been using is a number of years old now and, even though it was a strong sled at the time it was developed, things move on so, so quickly that it's hard to keep up with the likes of the Germans.
"We've got the opportunity to use Benny's sled this week and we're really grateful to him and his team for allowing us to do that. Benny's a great bloke and his attitude sums up the sport perfectly: 'if I can use my misfortune to benefit someone else, that's what I'll do'."
You can watch all the World Cup action via the International Bobsleigh & Skeleton Federation website and on their YouTube channel.
Saturday, January 19th @ 8am GMT
Women's Bobsleigh: Mica McNeill & Montell Douglas
Saturday, January 19th @ 1pm GMT
2-man Bobsleigh: Brad Hall & Nick Gleeson
Sunday, January 20th @ 1pm GMT
4-man Bobsleigh: Brad Hall, Alan Toward, Nick Gleeson & Ben Simons
The week's World Cup Skeleton action takes place on Friday, with Jerry Rice, Jack Thomas and Marcus Wyatt in action at 8.15am and Laura Deas, Kim Murray and Madelaine Smith competing at 1.30pm GMT.