Medal won't change mindset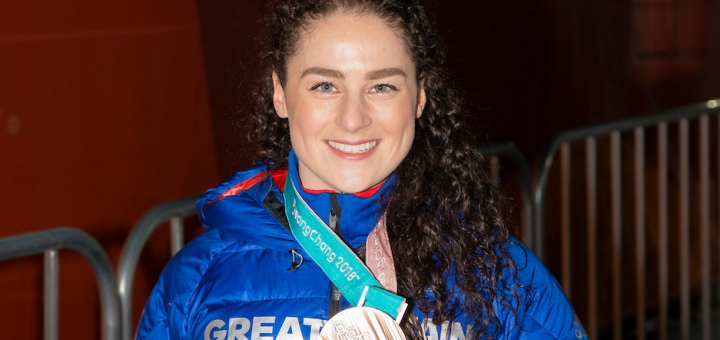 Olympic bronze medalist Laura Deas says the strength-in-depth within British Skeleton means there's no way she can rest on her laurels despite her South Korean success.
Deas joined fellow Brits Lizzy Yarnold and Dom Parsons on the podium in PyeongChang in February as she saw nine years of hard graft come to fruition with a famous third-place finish on the biggest stage of all.
But if anyone thought that momentous medal would lead to a sense of complacency or entitlement once training started again this summer, they couldn't have been more wrong.
While the 29-year-old made sure she enjoyed the opportunities that her medal brought in the aftermath of the Games, she is now back in the gym, back on the push track and back to pushing herself on to even bigger and better things.
"I've had a decent break but I pretty quickly got to the point where I felt that, if I didn't get back in the gym, the younger ones were going to be nipping at my heels and overtaking me!" said Deas.
"Lizzy's always given me the advice that it's important to have a break and I did take that on board, but we've got so much strength in depth that I couldn't sit back and think 'I don't need to train' - and I wouldn't want to do that anyway.
While I didn't want to get back to training too soon and then feel stale, or get halfway through the summer and feel that I should have more of a break, I also think I'm a classic athlete in the sense in that I do better when I've got a timetable and a structure.
"We've got so many strong athletes coming through the programme now. We've got two female athletes who competed on the World Cup with me and Lizzy last season (Ashleigh Pittaway and Maddy Smith); we've got the overall Europa Cup Champion (Brogan Crowley); and we had a podium sweep for the first time in seven years on the Europa Cup in November.
"I know what it's like to be in the position those athletes are in now: four years ago I had missed out on going to the Olympics and I had that real fire in my belly. I wanted to prove to everyone that I could make a mark for myself on the World Cup circuit so I know exactly how those guys are feeling right now.
"That's obviously giving me even more motivation but I'm also looking forward to playing my part in bringing the next generation through as well. That's a privileged position to be in."
Laura Deas doesn't plan to rest on her laurels despite her success
That sense of team spirit that sees Deas want to help those who are ultimately challenging for her spot is symptomatic of the culture within British Skeleton.
While skeleton may be an individual sport, the British programme places a great deal of emphasis on collaboration and co-operation and Deas believes that attitude is one of the key reasons why this country has been so successful in recent seasons.
"When we were out in South Korea, I really had the sense that I just had to concentrate on what I was doing, safe in the knowledge that the team were all doing their bits without me having to worry about them getting it right," added Deas.
"Eric (Head Coach Eric Bernotas), in particular, has been an integral part in building this strong, trusting team environment for the past four years and that really came into force at the Olympics.
It was very evident when you looked around the changing room in PyeongChang how strong and connected we were as a team compared to other nations.
"So much credit needs to go to the team that got me to the Olympics in the condition I needed to be to perform at my best. Often those people don't get seen on TV and they don't get spoken about very much but they are so, so important.
"It really was a team effort both before and during PyeongChang. Everyone played their part. It was only because everyone else did their job perfectly when it mattered that I was able to do mine. They all had a role to play and I categorically couldn't have done it without them. I am eternally grateful to them for their efforts."