McNeill starts with seventh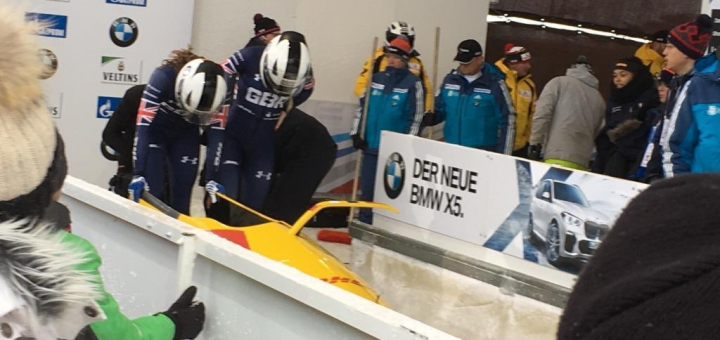 Mica McNeill's first World Cup appearance of the season saw her finish seventh in Winterberg this weekend.
McNeill, who recorded the country's best-ever result in the women's bobsleigh at February's Olympic Winter Games in South Korea, missed out on a wider podium place by 0.05 seconds on Saturday.
The British team sat out last week's World Cup opener in Sigulda after spending an extended period in Canada and America in preparation for the 2019 World Championships but both men's and women's teams took to the ice in Germany.
McNeill and Montell Douglas, who was a reserve in PyeongChang 10 months ago, clocked 57.34 seconds in Run 1 before going 0.07 seconds quicker in Run 2 as they finished just behind Austria's Katrin Beierl in a race won by home favourite Stephanie Schneider.
The men's competition featured back-to-back 4-man races after Race 1 in Sigulda hosted two 2-man events on its return to the top circuit.
Brad Hall piloted Nick Gleeson, Alan Toward and Ben Simons to joint 15th in Saturday's race with runs of 54.93 and 55.12 seconds. 
Hall, Toward and Simons then finished 17th with debutant Adam Hames less than 24 hours later, after 2018 Olympian Gleeson was ruled out with a back spasm.
Hames, who started out as a pilot in the lead up to the 2016 Youth Olympics in Lillehammer, became Great Britain's youngest ever men's World Cup athlete at just 19 years of age.
Germany took all six medals in the men's races, with Nico Walther winning the first and Francesco Friedrich the second.
The World Cup bobsleigh action now takes a break for the festive period, with the third race of the season scheduled for Altenberg on the weekend of January 6th.