McNeill equals career best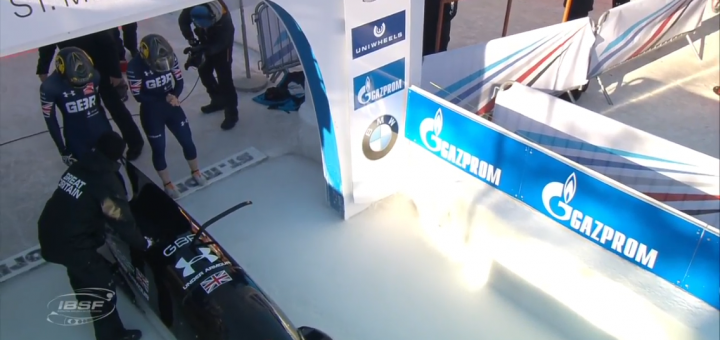 Britain's Mica McNeill equalled her best-ever bobsleigh World Cup result on Saturday as she finished tied seventh in St Moritz.
McNeill and former British 100m record holder, Montell Douglas, were racing together for just the second time but they produced the best British finish since Aleasha Kiddle partnered McNeill to seventh in Konigssee 11 months ago.
McNeill, who made her World Cup bow in 2013, and Douglas built on last week's 10th place in Winterberg as they clocked times of 1:08.86 and 1:08.36 across their two runs.
They jumped up from ninth after the first run to finish level with Germany's Christin Senkl and just one spot shy of a wider podium place, with America's Elana Meyers Taylor pipping Canada's Kaillie Humphries to gold by just one hundredth of a second across 3,400 metres of racing.
The result is a clear boost ahead of next week's World Junior Championships and next month's senior Worlds, both of which take place at German tracks.
Bruce Tasker and Joel Fearon linked up for the first time since they recorded Britain's best 2-man World Championship result in half a century last season, with the pair finishing 13th in what was only Tasker's second World Cup drive in Switzerland.
They finished 22nd in the same race last season but improved significantly this time around, producing exactly the same time of 1:05.97 on both runs.
Their second run start time of 5.06 seconds was the fourth best of the heat, with their 5.08 effort from Run 1 the seventh quickest of the 30 sleds.
Bruce Tasker & Joel Fearon were 13th in the 2-man bobsleigh
Britain fielded two two-man sleds but Lamin Deen and Ben Simons missed the cut for the second run as they finished 27th in a race won by Germany's Johannes Lochner at the home of sliding sports.
There was more medal success for GB Skeleton on the North American Cup circuit yesterday as Donna Creighton backed up her gold medal from Thursday's race with a silver on Friday. Maddy Smith was sixth in the same race and Marcus Wyatt seventh in the men's competition.
The bobsleigh action continues tomorrow at 9.30am GMT when GB again fields two crews in the 4-man event in St Moritz.
World Cup (St Moritz, Switzerland). Women's Bobsleigh: 1 E Meyers Taylor (USA) 2m 16.14s (1:08.41s & 1:07.73); 2 K Humphries (CAN) 2-16.15 (1:08.35 & 1:07.80); 3 J Greubel Poser (USA) 2-16.29 (1:08.38 & 1:07.91); =7 M McNeill (GB) 2-17.22 (1:08.86 & 1:08.36)
World Cup (St Moritz, Switzerland). 2-man Bobsleigh: 1 J Lochner (GER) 2m 10.63s (1:05.40 & 1:05.23); 2 F Friedrich 2-10.91 (GER) (1:05.69 & 1:05.22); 3 S Holcomb (USA) 2-11.30 (1:05.85 & 1:05.45); B Tasker (GB) 2-11.94 (1:05.97 & 1:05.97); 27 L Deen (GB) 1 run (1:06.62)